Greek political crisis: Huge amount at stake for Greece and EU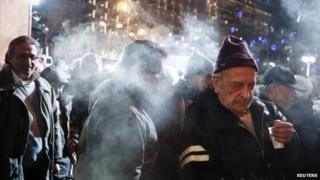 The crisis in Greece may no longer have the power to shake the eurozone to its financial foundations, but it still has the ability to cause considerable political concern.
As the EU tries to focus on big investment plans and ways to restore growth across the continent, another nail-biting Greek drama is probably the last thing it needs.
But that is exactly what it has got.
The calculation is simple - if the Greek parliament fails to elect the country's next president before the end of this year, a snap general election will be held in late January or early February.
And Syriza, the radical left wing opposition coalition, is favourite to win.
Plots and machinations
On Wednesday evening in Athens after a day of driving rain, only 160 Greek MPs voted for the government's presidential candidate, Stavros Dimas, in the first of three rounds of voting in parliament.
The final round will take place on 29 December and the government has less than two weeks to find the additional 20 votes it needs.
There will be plenty of plots and machinations ahead. There is already talk of a different presidential candidate - perhaps someone from the left.
Even so, the betting is that the government will struggle to succeed.
'Blackmailed'
Prime Minister Antonis Samaras is still trying to sound bullish, though.
"The conditions are difficult for the country," he said after the votes were counted in parliament. "I'm sure that MPs know this is no time for adventures."
But other senior politicians said the number of votes cast for Mr Dimas was lower than expected, and Syriza's leader Alexis Tsipras struck a confident tone.
"The government's strategy of fear has failed," he declared. "Democracy cannot be blackmailed."
The prime minister and his allies have warned that a Syriza election victory would be a dangerous gamble that Greece cannot afford.
Syriza wants to bring austerity to an abrupt end and write off a significant chunk of Greece's international debt.
It has a small but consistent lead in the opinion polls - drawing support from people who believe they have suffered enough after five years of unprecedented economic contraction.
'Radical transformation'
A few hours before the first presidential vote took place, several hundred public sector workers marched on parliament with banners and slogans held aloft.
Many of them will campaign for a Syriza victory whenever elections come.
"I would like to see a radical transformation," said Chrysoula Papadopoulou, a teacher who lost her job last year.
"We want to live as human beings, and to see our society change. It's bleeding now."
Syriza argues that if it were to come to power it would be able to negotiate with Greece's international creditors from a position of strength and democratic legitimacy.
But other political leaders here believe it would be in for a rude awakening.
They are telling voters that choosing Syriza would put Greece at risk of being forced out of the eurozone.
"We're going to see this situation played out in fast forward," said Professor Platon Tinios from Piraeus University.
"The real danger is time - would the markets give us the time that parties such as Syriza would need to adapt?"
There is a huge amount at stake, and it is hardly surprising that political tensions are high.
But is the rest of the EU really immune from the spectre of instability in Athens?
In a financial sense the answer is probably "yes".
What is happening in Greece, though, is that people are blaming the political system for their economic woes.
It is a de-legitimisation of government.
And that is something that could still spread to other countries in Europe.