Spain IS: Seven held in raids on women recruiters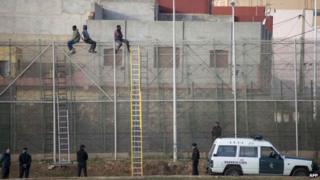 Seven people have been detained in Spain and Morocco in raids targeting a network recruiting women to join Islamic State (IS) in Syria and Iraq, officials say.
Four people were held after raids in the two Spanish enclaves of Ceuta and Melilla in North Africa. There was another arrest in Barcelona.
Moroccan authorities picked up two others in Castillejos, near Ceuta.
Spain's enclaves are seen as particularly attractive to jihadists.
Ceuta and Melilla are Europe's only land borders with Africa, offering a potential route to conflict zones.
The two enclaves are also very popular destinations for sub-Saharan migrants trying to enter Europe.
Although only an estimated 100 Islamists have left Spain to join the ranks of IS, up to 2,000 Moroccans are estimated by the authorities to have travelled to fight in Syria and Iraq.
Among the seven arrested were four women and a minor, Spanish authorities said on Tuesday.
The interior ministry said all were accused of forming part of a network that recruited and sent women to IS in the border areas of Syria and Iraq.
Similar raids were carried out in September, when authorities said the suspected leader of a recruitment cell was detained in Melilla.
A 14-year-old girl and a woman were arrested in the enclave a month earlier on suspicion of trying to join IS.