National Museum of Ireland 'not facing closure or fees'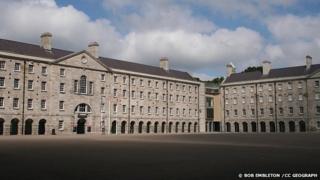 The National Museum of Ireland has denied that its visitor facilities are facing "imminent closure" or that entry charges are to be introduced.
It follows media reports that members of its board discussed the possibility of shutting its four sites or charging visitors to solve financial problems.
The museum has seen a 40% cut in its state funding since 2008.
In a statement on Friday, the board said it remained "committed to the principle of free entry".
It confirmed the board of the National Museum "had discussed a number of options for cost saving in the context of addressing the financial pressures facing the Museum in 2015".
However, the statement added: "No decision on the closure of sites or on the introduction of charges has been taken by the board and no recommendations have been made to the minister of arts, heritage and the Gaeltacht (Irish-speaking areas) in this regard."
'Significant cutbacks'
The National Museum of Ireland has been badly affected by public spending cuts over the past six years, as the Irish government implemented wide-ranging austerity measures as a result of the international financial crisis.
The museum's government funding has been cut from 19m euros (£15m) in 2008 to 11.4m euros (£9m) this year.
In a statement in October, the board of the National Museum of Ireland said an increase in annual funding of 650,000 euros (£500,000) was "required in order to maintain services at existing minimal levels" in 2015.
The Irish Minister for Arts, Heritage and the Gaeltacht, Heather Humphreys, told the BBC she was "acutely aware that all of our national cultural institutions have faced significant cutbacks in recent years".
Regressive measure
The minister said talks were ongoing and she remained "committed to working with the chair, director and management at National Museum of Ireland to address all outstanding issues".
Ms Humphreys added that she believed "charging would be a regressive measure, which could have a negative impact on visitor numbers at the museum".
The National Museum of Ireland began life 137 years ago and curates objects relating to Irish heritage on behalf of the state.
It currently operates four exhibition centres, three of them are in Dublin and the fourth is in County Mayo.
Its military history collection is housed at Collins Barracks on the outskirts of Dublin city centre.
Its natural history collection is displayed in Merrion Street, close to the Irish parliament.