Israel hit-and-run: Tel Aviv drink driver jailed in France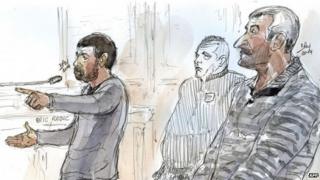 A Frenchman who killed an Israeli woman while drink-driving in Tel Aviv before fleeing the scene has been jailed for five years for manslaughter in France.
Lee Zeitouni, 25, was killed crossing the street in 2011 after being hit by the car, which was travelling at speed.
The case caused outrage in Israel after the driver Eric Robic and his passenger Claude Khayat fled to France. France's refusal to extradite the men caused a diplomatic spat.
Khayat was given a 15-month jail term.
Then President Nicolas Sarkozy had vowed justice for the victim's family with a trial in Paris after pressure mounted on France to return the men to Israel, however France does not extradite its citizens outside Europe.
Witnesses told AFP news agency that the 4x4 car was travelling at approximately 100km/h (62mph) in an area where the limit was half that speed.
Robic told the court that he had been drinking whisky and vodka that night, and had been returning from a nightclub when driving above the speed limit.
Both he and his passenger were found guilty of failing to help a person in distress.
Both men have apologised to the family of Ms Zeitouni, who were present at the trial and told AFP that they were "satisfied" with the sentence.
The trial was suspended last week after an unidentified man attacked Khayat's lawyer during a break in proceedings in the court's toilets.