Dublin: Bishop offers homeless shelter after man's death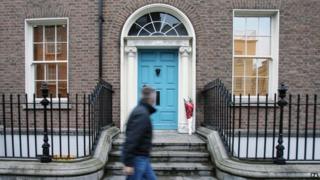 A church building is to be used as a homeless shelter following an outcry over the death of a man on the street outside the Irish Parliament in Dublin.
The 43-year-old man was pronounced dead on a doorstep on Molesworth Street at about 08:00 local time on Monday.
The doorstep is just a few metres from the parliament and his death has been described as a "national disgrace".
The Catholic archbishop of Dublin has now said he will make a church building available to shelter up to 40 people.
'Deep sorrow'
In a statement, Archbishop Diarmuid Martin said that following consultations with staff, he was in a position "to make a substantial diocesan property available for emergency homeless accommodation in Dublin city centre".
The statement said it was hoped the building could be made suitable before Christmas to house between 30 and 40 homeless people in the north inner city.
Archbishop Martin also called for a public summit to address "the immediate question of emergency accommodation for the homeless".
The archbishop's statement followed widely reported remarks by the Lord Mayor of Dublin, Christy Burke, about the city's ongoing problem with homelessness.
On Monday, Mr Burke told the Irish state broadcaster RTÉ: "When a man, a woman or child dies outside a national parliament due to homelessness it is automatically a national disgrace."
The dead man has been named as Jonathan Corrie.
A police spokesman said he was discovered "unresponsive" on the street on Monday morning and was pronounced dead at the scene at about 09:00 local time.
The site is fewer than 50m (55 yards) from the parliament building, Leinster House.
The body was removed to the city morgue for a post mortem examination.
Officers are investigating the incident but his death is not believed to be suspicious.
Mr Corrie's last known address was Dublin.
Archbishop Martin expressed his "deep sorrow" over the homeless man's death.
'Divided Dublin'
The clergyman said he was concerned about "a deeply divided Dublin, where on the one hand there is rejoicing at increased spending over the Christmas period and on the other hand where the number of those homeless and hungry is actually increasing".
Archbishop Martin said he would co-host the homeless summit with the city's lord mayor if necessary.