Irish water charges: Demonstrations across Republic of Ireland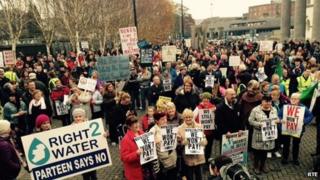 A number of demonstrations have taken place across the Republic of Ireland in protest against water charges.
In Cork more than 2,000 people marched through the city centre.
In Dublin another protest attracted around 1,000 people with protesters gathering outside the Irish Water headquarters on Talbot Street.
An estimated 3,000 protesters were in Limerick and several hundred attended a rally in Galway.
Earlier this month, the Irish government revised its plans for the introduction of domestic water charges, a key austerity measure.
The Fine Gael-Labour coalition has faced major protests over the issue.
Environment Minister Alan Kelly said charges would be capped at 160 euros (£128) for single adult households and 260 euros (£208) for others.
Water conservation grants of 100 euros a year (£80) mean the effective costs will be 60 euros (£48) and 160 euros (£128) respectively.
The starting date is 1 January, with the first bills to be issued in April.