Pope in 'silent adoration' in Istanbul Blue Mosque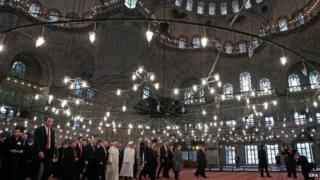 Pope Francis has stood in "silent adoration" in Istanbul's Blue Mosque alongside the city's top Muslim cleric on the second day of his Turkey visit.
The Pope later visited the Hagia Sofia - a church turned into a mosque and then a museum.
On Friday, he called for an interfaith dialogue to counter fanaticism and fundamentalism during a visit to the Turkish capital, Ankara.
The Pope's trip is only the fourth visit by a pontiff to Turkey.
There are about 120,000 Christians in Turkey - most of the country's 80 million citizens are Muslims.
Healing schism
At the Blue Mosque, one of the greatest masterpieces of Ottoman architecture, the Pope turned east towards Mecca, clasped his hands and paused for two minutes as the Grand Mufti of Istanbul, Rahmi Yaran, performed a Muslim prayer.
The Pope then visited Hagia Sofia - which for almost 1,000 years was the most important Orthodox cathedral, then for nearly five centuries a mosque under the Ottomans, and is currently a museum.
Istanbul was the Byzantine capital, known as Constantinople, until the Ottoman conquest in 1453.
The pontiff has celebrated Mass at the Roman Catholic Cathedral of the Holy Spirit.
As he arrived in Istanbul, the Pope was met by the leader of the Orthodox Church, Bartholomew I.
Francis and Bartholomew have a strong personal relationship, and discussions are expected to focus on healing the schism in the Christian Church in 1054 that divided Rome and Constantinople.
For a city that passed from the Byzantines to the Ottomans, a place where religions, empires and cultures collided, the Pope's message of interfaith dialogue has profound resonance, says the BBC's Mark Lowen in Istanbul.
In Ankara on Friday, the Pope stressed this message. He also called for a renewed Middle East peace push, saying the region had "for too long been a theatre of fratricidal wars".