Pope Francis hits out at 'bureaucratic' Europe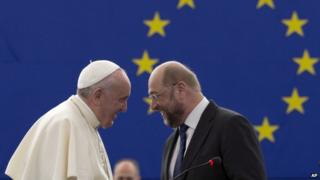 Apart from Italy, Pope Francis has not visited an EU country. Some in Europe felt ignored, so a speech was arranged to the European Parliament in Strasbourg.
This was not a pastoral visit. It was as close to a political speech as the Pope could make. He addressed MEPs directly on the current malaise in Europe.
He did not spare them. "There has been a growing mistrust," said the Pope, "on the part of citizens towards institutions considered to be aloof".
"As a result," he continued, "the great ideas which once inspired Europe seem to have lost their attractiveness, only to be replaced by the bureaucratic technicalities of its institutions".
The message was clear. Europe had lost its way.
The Pope clearly sees the EU as tired and divorced from the convictions of its founding fathers. He said the EU gave the impression of being somewhat "elderly and haggard", of "weariness and ageing". He compared the institution to a grandmother, no longer fertile and vibrant.
He seemed to place himself firmly in support of a flexible Europe which would be "like a family all the more united when each of its members is free to be fully himself or herself".
"I consider Europe as a family of peoples," he said.
As a result of the economic crisis, he said loneliness was more acute. He warned of men and women being reduced to mere cogs in a machine that treats them as items of consumption to be exploited.
He praised the EU for its commitment to human rights. He said the institution was responsible for keeping democracy alive for the peoples of Europe.
"The time has come," he said, "to abandon the idea of a Europe which is fearful and self-absorbed".
Afterwards I asked the Italian Prime Minister, Matteo Renzi, whether he agreed with the Pope that the EU was too bureaucratic. "Absolutely, yes," he said.
Nigel Farage, the leader of the UK Independence Party (UKIP), said the Pope clearly shared many of his criticisms.
But the President of the European Parliament, Martin Schulz, said the Pope did not wish to bring down the European project like Mr Farage but to strengthen it.
Many MEPs were surprised at how trenchant the Pope's criticisms were. They did not expect such a speech. The Pope clearly wants to see Europe develop around respect for the dignity of the individual.
The speech is unlikely to sway what was a very committed political audience, but it gave powerful backing to the idea that the EU cannot continue as before and that it must change.
Many of Europe's leaders recognise that, including the President of the European Commission, Jean-Claude Juncker, but it remains uncertain whether they have the will to reform institutions they have invested so heavily in.