Germany's Merkel toughens tone with Russia's Putin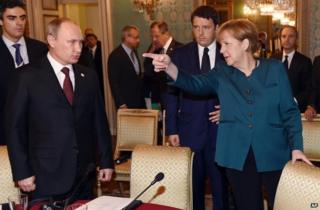 The face of Russian President Vladimir Putin stares out from the front page of one of Germany's most popular broadsheets. Germany's relationship with Russia has occupied the headlines and preoccupied its politicians for months.
This week, in a speech in Australia, Chancellor Angel Merkel appeared to suggest her patience with the Russian leader over the conflict in eastern Ukraine was running out.
"Angela Merkel has been the West's indispensable interlocutor with Putin," says Judy Dempsey from the Carnegie Europe think tank.
The chancellor speaks fluent Russian; the Russian leader fluent German. They are described as having developed a grudging respect for one another.
Their countries have a complicated relationship - a turbulent history and economic ties. Four thousand German companies do business with Russia.
On Sunday night, German TV aired an exclusive TV interview with Mr Putin in which he said sanctions against his country were not only hurting Ukraine but would also damage the German economy.
The two leaders are said to have spoken over the telephone nearly 40 times since the Ukraine crisis began. During the G20 summit in Brisbane, Australia, Mrs Merkel spent hours in a private meeting with Mr Putin.
'Not acceptable'
Then, on Monday, she addressed a think tank in Sydney.
Russia was "violating the territorial integrity and sovereignty of Ukraine", she said, and Europe would continue to apply pressure.
While she had long respected Russia's concerns about Ukraine moving closer to Nato, she argued it was "simply not acceptable to forbid a country" to sign a trade agreement with the EU.
Judy Dempsey believes the German leader simply does not trust the Russian president. "Merkel is not willing to give Putin the chance to save face, which some European diplomats and leaders might like, to get the Ukraine dossier off their desks," she says.
The German news magazine Spiegel agrees: "The chancellor believes that what Putin says and what Putin does have long since diverged."
The chancellor's speech in Australia has been judged within Germany as her most overtly critical of Mr Putin so far.
"Merkel throws down the gauntlet," exclaimed popular tabloid Bild. It described her speech as "hard hitting", which, for a leader renowned for her cautious public rhetoric, it was.
Does it mark a turning point in German policy? Certainly there seems to be a perceptible shift in tone which, until recently, has been conciliatory.
Germany has refused to support further sanctions against Russia, preferring to focus on the humanitarian situation inside Ukraine and the push for a sustainable ceasefire.
Foreign Minister Frank-Walter Steinmeier has consistently taken this approach and told one German newspaper on Sunday that Mr Putin understandably wanted to stand on an equal footing with other influential powers, although that did not justify breaching international law by annexing Crimea.
But then Mr Steinmeier travelled to Moscow in what was billed as his first visit there since the annexation in March. Although he and fellow European foreign ministers had stopped short of extending sanctions on Russia only 24 hours earlier, his tone was uncompromising.
"There is no reason for optimism in the current situation," he said during a joint news conference with Russian Foreign Minister Sergei Lavrov.
Europe, the German foreign minister warned, was at a crossroads. There was a looming threat of speechlessness instead of dialogue and confrontation instead of co-operation.
Elsewhere in Moscow, President Putin was using hard-hitting language of his own. The US, he said, wanted to subdue Russia. No-one had done so before, and no-one would.
Little more than a week ago, Angela Merkel watched fireworks explode above the Brandenburg Gate to celebrate the 25th anniversary of the fall of the Berlin Wall.
This week, the chancellor, who grew up in East Germany and experienced Soviet Communism at close hand, remarked in Australia on the bitter conflict in eastern Ukraine.
"Who would have thought that 25 years after the fall of the Berlin Wall, after the end of the Cold War and the division of Europe, and the end of the division of the world into two blocs, that something like this could happen right in the heart of Europe."