Ian Bailey denies celebrating Toscan du Plantier murder arrest attention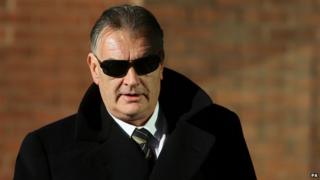 A former journalist who claims police tried to frame him for the murder of a French filmmaker has denied celebrating being the focus of media attention.
Ian Bailey, 57, told the High Court in Dublin he had no recollection of a diary entry from 30 June 1997 that said "Back in print. Hip, hip, hurray."
The note followed an article in the Sunday Independent.
A reporter spent time with him in west Cork after his first arrest over the killing of Sophie Toscan du Plantier.
Disputed
The 39-year-old film producer was found beaten to death on a hillside near her remote holiday home on 23 December 1996.
Mr Bailey, a former reporter born in Manchester who lived and worked in the Cheltenham area before moving to Ireland more than 23 years ago, denies any involvement in the killing and was never charged.
He is suing the Irish state for wrongful arrest during the murder investigation.
The diary entry shown to the court followed a feature article on Mr Bailey after reporter Brighid McLaughlin spent several days with him.
Mr Bailey was shown the note but disputed it was his writing after initially accepting it was from one of his journals.
"This is a page from one of my diaries that I would say was seized, taken illegally, but has managed to get into the proceedings," he said.
"I'm not actually sure that 'Back in print. Hip, hip, hurray' does look like my writing. The B is formed strangely.
"That does not actually look to me like I made it, it might be, maybe it is."
'Professional brief'
Mr Bailey added: "I can't recollect writing that."
The diary entry also came two days after Mr Bailey had a meeting with shopkeeper Marie Farrell in her ice cream parlour in Schull, County Cork.
The court heard she had intimated to him days earlier in the Galley Inn in the town that she had information on why he was a suspect in the murder case.
During his seventh day in the witness box, Mr Bailey rejected assertions that he derived satisfaction from being a suspect in the early weeks of the Toscan du Plantier murder inquiry in 1997.
"I was deriving some satisfaction in that I was fulfilling my professional brief," he said.
"I was working as a professional journalist. Obviously I was enjoying that but no, I reject that proposition."
The court was also told detail of several grounds for Mr Bailey's second arrest, on 27 January 1998.
Under Irish law a person can only be arrested for a second time over the same offence after a judge agrees to a warrant.
Mr Bailey also repeated his claims that there had been an attempt to frame him.
"There was an intention to put me in the frame for want of a better way of putting it," he told the jury.
"We know that for whatever reason I was chosen and then they tried to create the evidence to put me in the frame."
Mr Bailey is suing the Garda (police) commissioner, the minister for justice and the attorney general for wrongful arrest and a series of other alleged failings in the murder investigation.
The state denies all claims.