Russia's music stars split in culture war over Ukraine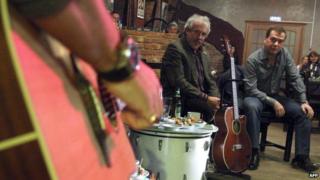 Andrei Makarevich is used to packing out big venues, but these days one of Russia's best known rock stars is struggling to get on stage, because of a culture war sparked by the conflict in eastern Ukraine.
"It happens in the old, Soviet way," the musician shrugs, a veteran of old-style censorship who formed his hugely popular rock band Mashina Vremeni (Time Machine) over four decades ago.
So far, 28 of his concerts have been cancelled. Now he says all it takes is a call from the Kremlin to the venue where he is due to appear and there's a sudden "double-booking" or vital repair work.
"If the guy who makes the concert is not so brave, and usually they are not because they want to live and feed their children, then the concert is stopped," a now silver-haired Makarevich told the BBC.
The Ukrainian crisis has divided artists here into "traitors" and "patriots".
Makarevich's fall from grace began when the rocker spoke out against Russia's annexation of Crimea in March, which he continues to describe as "a big mistake by our government".
It accelerated after he performed in eastern Ukraine, riven by conflict since April.
The concert was in an area that had recently been recaptured by Ukrainian troops, and Makarevich was soon denounced in Russian state media as a "friend of the junta" - Kremlin-speak for the pro-Western government in Kiev.
Outraged campaigners called for the star to be stripped of his music awards; one politician even wanted him exiled. Then at a Moscow concert, nationalist protestors pelted Makarevich with tomatoes, yelling that he had "betrayed his country".
It was a very different scene when Russia's queen of pop, Valeriya, strode the stage in silver sequins recently, working an enthusiastic crowd in the city of Voronezh, about 290 miles (470km) south of Moscow.
The chart-topper has also taken a public stance over the crisis in Ukraine, signing a letter of support for President Vladimir Putin's policy there. She sees Russia's absorption of Crimea as a matter of national pride.
"I understand that the people of Crimea have the right to choose and they did that," the singer told the BBC, referring to a local referendum condemned by Kiev and Western governments.
"We feel that [Crimea] is Russian territory, it always has been," she adds, pointing out that most Russians agree.
Certainly the only backlash Valeriya has faced for her views has been abroad.
She was heckled as "Putin's propagandist" ahead of a recent performance at London's Albert Hall, and she's been banned from Latvia, accused of undermining Ukrainian sovereignty with her statements.
"They made an enemy out of me," the singer complains. "I just expressed my opinion and I was accused of all the sins in the world."
Compared with the actions of some "patriotic" Russian artists, Valeriya might seem almost dove-like.
Last month, screen star Mikhail Porechenkov was filmed firing a machine gun from rebel-held positions around Donetsk airport.
And legendary crooner Iosif Kobzon openly supported the insurgents on a trip to eastern Ukraine that included an awkward on-stage "duet" with a rebel leader at Donetsk Opera House. They were accompanied by a Russian interior ministry choir.
Blacklisted
But those who fall on the "wrong" side of the loyalty line are clearly facing problems.
Satirist Victor Shenderovich, a prominent critic of President Putin, has complained of a cancelled show in Moscow.
Rock singer Diana Arbenina was labelled another "friend of the junta" after she apologised to Ukrainian fans that more artists had not shown their support.
And after rapper Noize MC performed in western Ukraine wrapped in that country's flag, 10 venues in Russia refused to host him.
"We know we are blacklisted, it's obvious," the musician, otherwise known as Ivan Alekseev, told the BBC, saying that word had spread that his group was out to "provoke the audience in an unpatriotic way," which he denies.
"We are being watched and monitored everywhere. It's pretty creepy," the rapper adds. "I'm really against war. And now this kind of position is considered dangerous."
One cultural critic, however, believes it's nothing personal.
"The Kremlin are not afraid of Makarevich or Arbenina. They're afraid of other opinions," argues Andrei Archangelsky, of Ogonyok magazine.
"They're afraid that being independent and not hiding your convictions will become the norm," he says, stressing that the Kremlin's unwritten rule for artists these days is "support us, or stay quiet".
Choosing to dissent from the mainstream can prove costly.
"We've lost money," says Noize MC, but he feels the block on performing hurts more.
"That made me really mad and depressed," he says. "You can't help wonder how much worse it can get. When did everyone get so aggressive?"
The ban is not total - at least not yet - but is noticeably worse in the provinces.
Fans of Andrei Makarevich recently squeezed into a Moscow basement, passing metal detectors and a bag check for rotten fruit, to see him play at a jazz club.
"I could never imagine this might occur in our country," one fan, Igor, commented after a final encore. "It's awful. But he's a great man anyway."
As for Makarevich himself, he called his latest song My Country Has Gone Mad but still hopes that this latest "stupid thing" as he calls it, will pass.
"I remember a time when it was worse," the rocker reflects wryly. "I do hope it will not repeat again."