Bomb threat to Alan Kelly linked to Irish water charges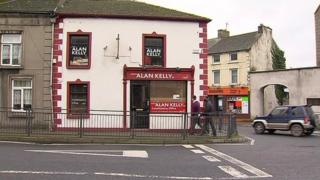 Irish police are investigating a bomb threat to a government minister's office as tensions heighten over the introduction of water charges.
A woman phoned Environment Minister Alan Kelly's constituency office in Nenagh, County Tipperary, on Monday.
Mr Kelly's spokesman said the caller delivered a "menacing and threatening" warning. It was reported to police.
Meanwhile, protesters tried to stop the Irish prime minister's car in Sligo on Monday evening and scuffles broke out.
Enda Kenny was travelling to a Sligo hotel for a meeting of his Fine Gael party but about 400 protesters had gathered outside the building.
They banged on Mr Kenny's car, and there were scuffles between the protesters and the police, but the prime minister entered the hotel for his meeting.
'Kidnapping'
On Saturday, Deputy Prime Minister Joan Burton was trapped in her ministerial car for about two hours when she came under siege from anti-water charge protesters in Jobstown, west Dublin.
The Labour leader had been speaking at a graduation ceremony and was surrounded by demonstrators as she attempted to leave.
On Monday, Mr Kenny told state broadcaster RTÉ that what happened to Ms Burton "amounted almost to kidnapping".
The prime minister said: "We will not tolerate a position where law-abiding citizens are prevented from going about their work."
The torching of two Cork County Council water services vans in Bantry, west Cork, over the weekend is being linked by some to the growing fallout over water charges.
The staff member who took the bomb threat call at Mr Kelly's office was said to be shaken by the experience, which happened at about 09:00 local time.
She contacted police to make a formal complaint and detectives are investigating the incident.
The caller did not claim to represent any group or organisation, but made clear the threat was linked to the levy for water.
The Irish coalition government has faced unprecedented protests over domestic water charges.
The charges are being imposed in every household and the bills will begin to arrive early next year.