Actress Maureen O'Hara's nephew pays damages to Carolyn Murphy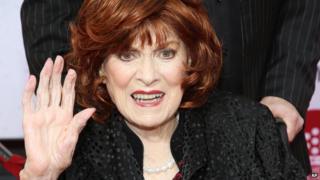 A nephew of Irish-born actress Maureen O'Hara has apologised and paid undisclosed damages to her former personal assistant over allegations about the handling of her financial affairs.
Carolyn Murphy developed a 30-year friendship with the actress during her time living in Ireland.
She sued for defamation over emails sent by Charlie Fitzsimons.
The High Court in Dublin has been told the action has been settled.
Ms Murphy said she was still extremely upset by the allegations, the exact nature or detail of which has not been revealed.
In a statement issued on her behalf by solicitor Paul Tweed, she said the dispute had contributed to the breakdown of her friendship with the Hollywood film star.
"My client is very satisfied with this categorical and comprehensive retraction and apology of what were totally unfounded allegations relating to my client's work and support for the actress Maureen O'Hara and the Maureen O'Hara Foundation over a number of years," Mr Tweed said.
"However, Carolyn Murphy remains extremely upset that these allegations were made in the first place and contributed to the breakdown of her lengthy personal and professional relationship with Maureen O'Hara."
Honorary Oscar
Ms O'Hara, who lived in the picturesque west Cork village of Glengarriff on and off since 1970, has returned to the US to be close to her family since a dispute over her financial affairs and legacy broke out.
The star was awarded an honorary Oscar earlier this month - her first academy award at the age of 94.
Mr Fitzsimons' allegations against her former personal assistant date from between August 2012 and July 2013. They were contained in four emails, the High Court in Dublin heard.
Ms Murphy worked for several years as Ms O'Hara's assistant and also had power of attorney until 2012, when family members stepped in.
In a statement read to the court, Mr Fitzsimons accepted that he made false claims that questioned Ms Murphy's integrity and honesty.
"The defendant accepts that such allegations are totally without foundation," Rossa Fanning, junior counsel for Mr Fitzsimons, said.
"The defendant unreservedly withdraws any imputations to the contrary and apologises to Carolyn Murphy for the distress and anxiety that these false allegations have caused to her.
"The defendant also undertakes not to repeat these false allegations in the future."
Maureen O'Hara made more than 60 films in a career that began in 1938.
She starred opposite John Wayne in several films. One of her personal favourites was The Quiet Man, filmed in Cong, County Mayo, in the Republic of Ireland.
Other credits include Miracle On 34th Street and Sitting Pretty.
Before her departure from Ireland and the dispute between her former PA and her relatives, there were ambitious plans for Ms O'Hara's legacy in Glengarriff.
Among them was a proposed theatre school and museum in the village, part of which would house the large collection of film memorabilia the star built up during her life.
Ms O'Hara's scenic coastal home, Lugdine estate, on 35 acres outside the village was put up for sale last month for 2.3m euros (£1.8m).
The actress bought it with her late husband, Charles Blair, more than 40 years ago and spent several months living there each year before taking up permanent residence in 2005.
Ms Murphy lives near Bantry in Cork and first met Maureen O'Hara in the late 1970s.