Bird flu: How many different strains are there?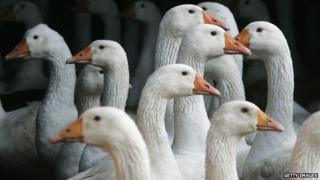 The bird flu virus found in 150,000 birds in the Netherlands has been identified as H5N8 but what does that actually mean?
Each new bird flu virus is given a combination of letters and numbers depending on the different HA and NA proteins found on its surface.
With 27 subtypes of these proteins around, there are many possible viruses that can emerge to make the jump to humans. Not all of them have.
H5, H7 and H9 are the subtypes that have been causing most of the recent illnesses in people but as these viruses are mutating all of the time, it can be hard to keep up.
Here is a rundown of the latest types of bird flu and where they have been found:
---
H5N1
First seen in a human patient in Hong Kong in 1993, it has spread worldwide.
According to the WHO, between 2003 and July 2014 there were 667 confirmed human cases of H5N1 infection in 16 countries, leading to 393 deaths.
It has a death rate of 60% in humans.
---
H7N9
The World Health Organization (WHO) has said that this virus is "unusually dangerous".
In June 2014, WHO indicated that so far there had been 450 laboratory-confirmed cases of H7N9, including 165 deaths.
There is also evidence that this type of avian flu can be passed from person to person but this is rare.
---
H7N7
In 2003, an outbreak in a chicken farm in The Netherlands spread to nearly 800 poultry farms and resulted in the culling of almost 11 million chickens.
The virus infected up to 90 people and killed one man.
---
H10N8
Only detected in China in 2013.
Researchers say it does not pose an imminent global threat.
There have been three reported cases and two deaths since December 2013.
---
H10N7
Reported for the first time in humans in 2004 when two children became ill in Egypt.
The symptoms were relatively mild and both children recovered.
---
H7N3
An outbreak in 2004 led to the culling of millions of birds in Canada but only two mild human infections were confirmed.