Russia expels Polish envoys in spying row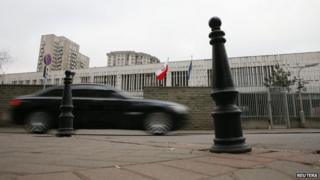 Russia has expelled a number of Polish diplomats in an apparent tit-for-tat move after a Russian envoy was sent home from Warsaw.
Four diplomats were given 48 hours to leave on Friday, Polish TV reports.
Russia has also become embroiled in a spying row with Germany, throwing out one of its envoys in response to a similar decision in Berlin.
Russia's relations with Nato and EU member states have worsened sharply because of its conduct in Ukraine.
After Russia annexed Crimea, it was also accused of fomenting unrest in the eastern regions of Luhansk and Donetsk. Russia denies claims that it has sent heavy weaponry and regular servicemen to the east.
Poland, a former eastern bloc state, joined Nato in 1999 and the European Union in 2004.
Polish officials said initially that a Russian diplomat had been expelled for contact with a Polish army colonel who was arrested last month on suspicion of spying. They said the diplomat had been working for Russia's GRU military intelligence.
'Incompatible'
Polish newspaper Rzeczpospolita reported last week that the colonel was suspected of receiving money in return for supplying information, possibly on the mood within the Polish military.
Russia's foreign ministry said on Monday that the Polish diplomats had been expelled for "activities incompatible with their status".
Polish Foreign Minister Grzegorz Schetyna said his government now considered the matter closed.
The conflict in Ukraine has hit relations between Russian and Poland particularly badly and the government in Warsaw has called for tougher sanctions to be prepared by EU officials if Russia steps up its involvement in eastern Ukraine.
Germany's Spiegel website reported at the weekend that a woman working at its embassy in Moscow was expelled after a Russian diplomat in Bonn was told to leave.
The Russian diplomat had been under surveillance for several months, the report said.
Germany has also accused high-ranking US officials of spying this year. The top CIA man in the country was sent home in July.