Campino: Merkel 'apologised for misusing song'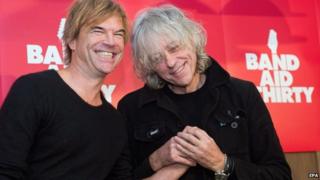 German rock star Campino says he was shocked after Chancellor Angela Merkel apologised for playing one of his songs at her re-election party last year.
In his autobiography, extracts of which were published in Der Spiegel, the frontman of Die Toten Hosen said he was touched by the call.
But Campino added that he was horrified she "didn't have anything else to do".
He had previously said he did not want politicians to use the song, Days Like These.
Mrs Merkel called Campino, whose real name is Andreas Frege, four days after her re-election, and said her Christian Democrat Party (CDU) had "trampled all over [his] song on election night".
The chancellor supposedly promised that Days Like These was "not going to be the next CDU anthem".
Fans had reacted angrily to her use of the song.
However, Mrs Merkel said that while Campino had asked for it not to be used at political rallies, he had never objected to the song being played at "victory celebrations".