Serbia-Albania: Football and politics prove toxic mix
By Guy De Launey
BBC News, Belgrade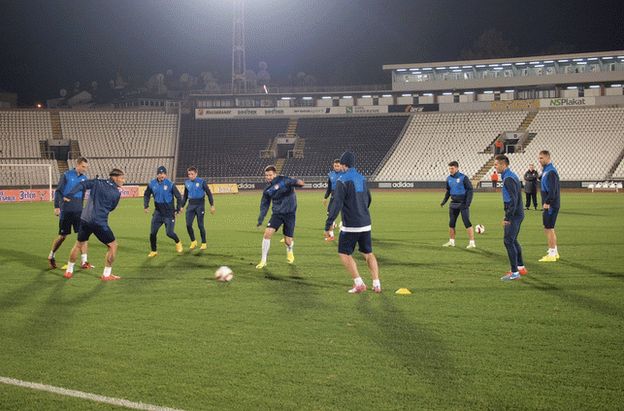 Serbia's football team is poised to play Denmark in a home match in Belgrade with no fans allowed in the stadium after a brawl during a match with Albania last month.
George Orwell would have appreciated - if not enjoyed - the overlap between football, nationalism and politics in the western Balkans. He famously described sport as "war minus the shooting".
While the drone which caused the abandonment of last month's match between Serbia and Albania was a civilian - rather than military - model, it still had a considerable impact. It derailed a planned visit to Belgrade by Albania's Prime Minister, Edi Rama - the first by an Albanian leader for 68 years - and revived ill-feeling between the two countries.
This week Serbia had the chance for some redemption. Mr Rama finally arrived for a two-day visit. And on Friday night, Serbia's footballers take to the pitch for the first time since the now-infamous "drone brawl". But as is often the case in this region, events have not been running quite to plan.
One might have expected the first official meeting between the prime ministers of Serbia and Albania to be a bland affair. Especially in the aftermath of the football incident - when the drone trailed an Albanian ultra-nationalist emblem around Belgrade's Partizan Stadium.
All Mr Rama and his Serbian counterpart Aleksandar Vucic had to do was smooth things over - emphasising the common interests of the two countries. That would provide a sound basis for developing the relationship between the two countries, as both pursue economic rejuvenation and membership of the European Union.
Instead, at a joint media conference, the Albanian premier emphasised the differences - specifically the two countries' divergent views on Kosovo. Mr Rama said that Serbia should accept that its breakaway, majority ethnic-Albanian province was independent and move on. Mr Vucic could barely contain his fury - accusing his opposite number of veering a long way from the topics agreed for their meeting.
To the outsider, this all seems like an astonishing breach of diplomatic protocol. But none of it would have come as a surprise to Dusan Janjic, the president of the Belgrade-based Forum for Ethnic Relations, and a supporter of rapprochement between Serbia and Albania.
In the run-up to Mr Rama's visit, Mr Janjic had been talking to government officials in Albania's capital Tirana to try to make sure the event went smoothly. But he admits that the relationship is complicated.
"Serbia and Albania are like cousins," he says. "Their reconciliation would be similar to French-German reconciliation."
Mr Janjic insists that, with their common interests, Serbia and Albania should really be working together.
"This visit says the political map of the Balkans is changing," he says. "Albania is potentially important to Serbia because its ports offer access to the sea. Serbia could provide the agricultural products Albania needs for its tourism industry. Separately these countries are very small, but together they could be a player - it could be the start of a Balkan Benelux."
At least the football teams are not due to meet again until next October. By then, Serbia will have completed its punishment for the pitch invasion at their most recent meeting. European football's governing body Uefa awarded Serbia the victory, but also docked three vital points - and banned all fans from the team's next two home matches.
The first of those is against Denmark - a fixture which was always more likely to attract football hipsters rather than the troublemakers seen at the Albania match. But the empty Partizan Stadium will serve as a reminder that - despite promises by its leaders - Serbia has still failed to do anything meaningful about a hooligan problem which regularly overshadows the quality of its footballers.
"Serbia doesn't do anything about anything - we don't solve problems about politics or the economy, so it would be a pretty tall order to expect that hooliganism would be first on the list," says football commentator Vladimir Novakovic.
"All the laws are there - you don't need to come up with new ones. The problem is that we're not a very law-abiding country. There are huge problems between police, the courts and the whole political climate - which prevents things like this from getting sorted out."
One often hears Serbian football supporters talk wistfully about Britain's success in reducing hooliganism. Their assumption is that this occurred through a crackdown in the 1980s, when Margaret Thatcher's government attempted to introduce compulsory identification cards for supporters.
But people who work in community football projects insist that changing behaviour inside stadiums was - and is - a far more complex issue.
"At the moment it's all a vicious cycle - nobody's approached the problem in a structured manner," says Alex Rankovic, who organised community football projects in Nottingham for a decade.
Now he has returned to his native Serbia, and is planning to introduce similar initiatives here. Starting at primary school, match tickets and meetings with players and coaches will be used as motivation and inspiration to ensure acceptable behaviour in and around football grounds from an early age.
"I saw this work in the UK, and I think we can replicate it in Serbia," he says. "I'm absolutely convinced that in six or seven years' time when today's kids go to football matches, they will know how to behave."
All of this will take time - but nothing is impossible. In recent years, Serbia's politicians have built cordial relations with former foes in Croatia and normalised relations with Kosovo. And despite the tensions, even Mr Rama's visit has to be seen as a positive development.
Now they just need to get the message across to the disenfranchised young men in the country's football stadiums that times really have changed.