Simon Coveney: Agreement reached over Irish beef dispute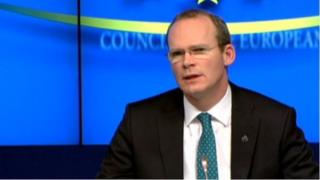 The Irish agriculture minister has said that agreement has been reached on the future template for the country's beef sector following a dispute between farmers and processors.
Simon Coveney said a list of key actions had been agreed to address concerns raised by beef farmers in recent months.
The agreement came after nine hours of talks.
Farmers staged a 48-hour protest outside processing plants on Monday.
They said that meat factories were not passing on price increases, and that there was a large disparity between UK and Irish prices.
Meat Industry Ireland (MII), which represent processors, had said that comparisons with UK prices were inappropriate as quality standards vary.
Mr Coveney said the new agreement included issues such as weight specifications and the quality payment system.
President of the Irish Farmers Association (IFA), Eddie Downey, said the agreement showed that good progress had been made.
He added that the farmers who protested at factories over the price gap with the UK had sent a strong message that cattle prices must increase.
The MII also welcomed the agreement.
Ciaran Fitzgerald, MII chairman, said: "Committing to a process of negotiation on non-price issues, however tough and prolonged, has been vindicated as the only way of moving this very important 2bn euros (£1.56bn) export industry forward."