German economy: Eurozone star causing concern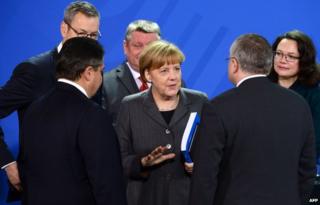 The narrative has been there for so long that it almost goes unchallenged. Germany is the "engine room" of the eurozone.
Only recently, while much of Europe was mired in economic crisis, Germany was celebrating "Wirtschaftswunder", an economic miracle.
Yet on Friday, Germany's politicians will be watching with some anxiety as to whether the country slides into recession. The expectation is that it will just escape but economic growth will have been meagre, perhaps 0.1% in the third quarter.
For Germany there has been a cascade of bad news:
In August industrial output was shown to have declined at its fastest rate in five years
Even exports are down
Investor confidence has slumped
The European Commission has revised growth down from 2% to 1.2%
All of that having been said, the German economy is the envy of most other eurozone countries. It has created 325,000 jobs this year and unemployment is low.
So what is shaking confidence?
German exporters have been hurt by sanctions imposed on Russia. The emerging markets are slowing and the eurozone, its largest market, is stagnating.
But critics say that Germany is also being hurt by its own policies, by its own failings and by its own rigid beliefs.
A succession of reports have charted the country's failing infrastructure. Nearly 40% of bridges and 20% of the autobahns are said to be in a critical state of repair.
In this moment of angst a book has appeared called The Germany Illusion, in which author Marcel Fratzscher opines that "this country is on a downward track", undermined by gaps in investment including education.
Apart from the car industry, even major manufacturers have failed to invest at the rate of some other countries.
'Black zero'
All of this has emboldened loud critics elsewhere in Europe. Germany, they argue, is being hurt by the austerity it has championed and by its failure to stoke demand which would help both itself and the ailing eurozone.
Just a few weeks ago, German Finance Minister Wolfgang Schaeuble announced, with some pride, a break-even budget by 2015, the so-called black zero.
For the first time in decades Germany would not need to take on more debt. The budget had been balanced.
The black zero or "schwarze Null" has fewer enthusiasts outside Germany; both the IMF and the ECB are pleading with Germany to spend more.
There was a response of sorts.
Berlin announced that it would increase spending on infrastructure by €10bn (£7.8bn; $12.5bn) over three years. Critics found it gesture politics, a small up-tick that amounts to 0.1% of GDP.
So the critics are in full cry. The country has preached reforms to other countries but has not done much more itself since it cut welfare under Gerhard Schroeder and embedded competitiveness with wage restraint.
Make no mistake - Germany has a stellar economy compared with others and will grow in 2014 by 1.2%, but the critics want it to do far more than a bit of fiscal easing which is unlikely to recharge the engine at home or stave off stagnation in the rest of the eurozone.