Ireland sends new envoy to Vatican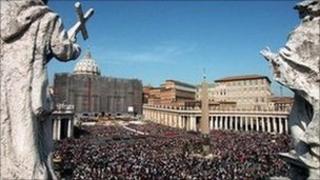 Ireland has sent a new envoy to the Vatican, three years after Dublin closed its embassy following a row over a sex abuse inquiry.
Emma Madigan was received by Pope Francis, the Vatican said in a statement.
The Irish government closed the embassy in November 2011 citing economic reasons.
However, the move was widely viewed as a snub to the Roman Catholic hierarchy.
The closure of the embassy followed an unprecedented attack by the Irish prime minister on Vatican authorities over their response to a clerical child abuse inquiry.
Enda Kenny accused the Vatican of trying to whitewash an inquiry into child sex abuse committed between 1996 and 2006.
He said the Cloyne Report "exposed the dysfunction, disconnection, elitism and narcissism" in the Vatican.
The Vatican denounced the actions of offending priests in Ireland but denied having tried to interfere in the report.