MH17 crash: Dutch salvage team 'unable to start'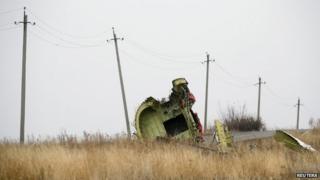 A Dutch effort to salvage wreckage from the Malaysia Airlines crash site in eastern Ukraine has been unable to start because no deal has been reached with local rebel groups.
The Dutch experts arrived at the MH17 crash site early on Tuesday.
However, they have refused to talk to the rebels, relying instead on European security officials to broker a deal.
MH17 was shot down on 17 July over rebel-held territory, killing all 298 people on board.
The head of the repatriation team, Pieter-Jaap Aalbersberg, told Dutch broadcaster NOS that the salvage team was ready to start work removing wreckage but there was no agreement yet between the European security body OSCE and local Ukrainians.
A rebel spokesman from the self-declared Donetsk People's Republic told Russia's Interfax news agency that the Dutch experts were unhappy with "certain points of protocol on gathering the wreckage".
The spokesman was non-committal about when work might begin, saying it could happen "today, or in a week's time".
However, the salvage team did discover more human remains at sites where fires broke out after the crash, Dutch media reported.
At the so-called "burn sites", investigators also found personal effects. The head of the repatriation team Pieter-Jaap Aalbersberg said these should be returned to the victims' relatives.
Tuesday's discoveries have been flown to Kharkiv, Ukraine's second-largest city, for forensic examination.
Memorial service
Of the 298 people who died in the disaster, 196 were from the Netherlands and the Dutch government has taken the lead in the crash investigation. Nine victims of the disaster are still to be identified.
Russian President Vladimir Putin, in Beijing for a summit of Asia-Pacific nations, held talks on the crash with Australian PM Tony Abbott. Twenty-seven of the victims were Australians.
Both leaders called for the investigation to be speeded up, Mr Putin's spokesman told Interfax, adding that Mr Putin had blamed Ukrainian government forces for making access to the site difficult.
A memorial service was held in the Netherlands on Monday, at which the names of all 298 victims were read out.
Although investigators have yet to establish the exact cause of the crash, Ukraine and Western countries accuse pro-Russian rebels of shooting the plane down with a Russian-made missile, an accusation which Russia denies.