Whistleblower accuses several Irish politicians of tax evasion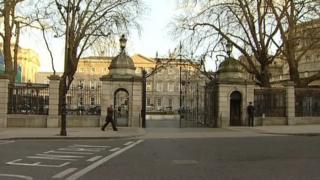 A number of Irish politicians have been accused of tax evasion by a serving civil servant who sent a dossier of claims to a parliamentary watchdog.
The dossier, which alleges tax evasion by senior politicians dating back over 15 years, was sent to the Public Accounts Committee (PAC) this week.
PAC member Sean Fleming said a senior judge was also accused in the dossier.
The whistleblower has sought protection under the Protected Disclosures Act, which came into force in July.
It has been alleged that the civil servant uncovered tax evasion in the course of his work.
Mr Fleming said the committee has sought legal advice on the content of the dossier.
"If the legal advice tells us that there are allegations of criminal wrongdoing in this matter, we are obliged by law to hand that matter over to the Garda Síochána [police] for investigation and maybe the director of corporate enforcement as well," he said.