Tax trial confirmed for Spain's Princess Cristina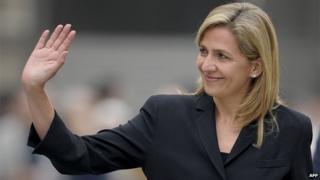 Spanish King Felipe VI's sister Princess Cristina could face trial after a Spanish court upheld tax fraud charges against her.
However, the high court in Palma de Mallorca dropped money-laundering charges.
The charges relate to business dealings by her husband, Inaki Urdangarin.
Many Spaniards have recently lost confidence in the monarchy following a series of scandals, including Princess Cristina's case.
Judges have been investigating allegations that the princess's husband embezzled millions in public funds with a former business partner and that the princess had knowingly benefited from the dealings.
Her lawyers have said they are completely convinced of her innocence.
Her husband, Mr Urdangarin, stands accused with 15 others of embezzling 5.6m euros (£4.6m; $7.5m) of public money from the Noos Institute - a charitable sports foundation that used to be presided over by Mr Urdangarin.
Between 2004 and 2006, the institute organised a series of sporting events for the regional governments of the Balearic Islands and Valencia.
The central allegation is that Mr Urdangarin, along with business partner Diego Torres, hugely overcharged the two regional governments.
Princess Cristina sat on the board of Noos when her husband was its president.
The money from the Noos Institute was allegedly transferred into several companies and offshore accounts, including Aizoon SL, a company that Princess Cristina owned with her husband.
'Personal spending'
Questioned in court in February, Cristina said she had trusted her husband and had no knowledge of his business affairs.
Spanish media report that the trial is likely to take place in 2016.
"We are going to continue with the defence because we believe that there are not sufficient grounds to bring any kind of accusation," Princess Cristina's lawyer, Miquel Roca, told reporters after Friday's ruling.
The judge, Jose Castro, said that the princess should go on trial for using public money for "personal spending".
The fraud case has been one of a series of scandals that has weakened the popularity of the Spanish monarchy and prompted the abdication of King Juan Carlos in June. He was succeeded by his son, Felipe VI.
The investigation into alleged fraud has been a huge embarrassment for the Spanish royal family.