Water charges: Protest held in Coolock over arrest of campaigners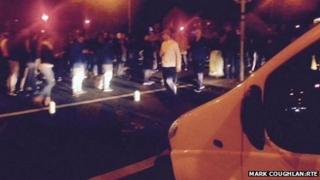 Campaigners opposed to the introduction of water charges in the Republic of Ireland have staged a protest outside a police station in north Dublin.
A large crowd gathered outside Coolock garda station on Wednesday evening, following the arrest of three protesters earlier in the afternoon.
Campaigners also blocked Malahide Road, just outside the station.
The three protesters were arrested during Irish Prime Minister (Taoiseach) Enda Kenny's visit to Santry, Dublin.
Anti-water charge protesters heckled him when he arrived and as he left a sports complex in the village.
All three people have since been released and the protesters have left the station.
Over 100 protests were held throughout the country on 1 November, in response to the charges that were introduced in September.
Households are due to receive their first water bills in January 2015.
The controversial austerity measure is a key part of the government's plan to pay back the international financial bailout the state had to seek in 2010.