EU audit: 7bn euros of budget funds misspent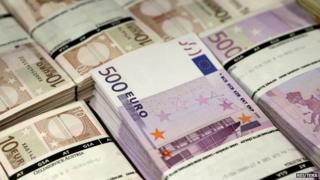 European Union auditors say the EU misspent about €7bn (£5.5bn) last year - that is, 4.7% of its annual budget.
The €7bn is described as "errors" in budget allocations, only part of which could be called fraud or waste.
The European Court of Auditors (ECA) said the EU budget should be focused on achieving results rather than on "just getting funds spent".
The report comes amid a row about EU budget surcharges, strongly disputed by the UK, Italy and the Netherlands.
The two most error-prone spending areas in 2013 were regional policy, including energy and transport (6.9% error rate) and rural development, including environment, fisheries and health (6.7%), the auditors said.
The figure is a marginal improvement on 2012, when 4.8% of the budget was misspent.
The ECA president, Vitor Caldeira, said the EU must find more incentives to deliver value for money and improve long-term forecasts, to curb budget waste.
"Just following the usual procedure will no longer be enough," he said.
The European Commission says that in 2013 it managed to correct or recover €3.4bn of misspent EU funds - almost half the total.
The Eurosceptic group that includes the British Conservatives in the European Parliament urged the European Commission to "get a grip" on the budget.
Ryszard Czarnecki, budget control spokesman for the European Conservatives and Reformists (ECR), said "European governments are largely to blame for these failures, but the Commission is responsible for the budget and needs to get a grip.
"[Commission] President Juncker has said he wants the Commission to be more political. He must realise that whatever excuses the Commission makes for this annual failure, people are frustrated that the auditors have not been able to give the accounts a clean bill of health for 20 years."