EU Commission head Juncker attacks UK and Italian PMs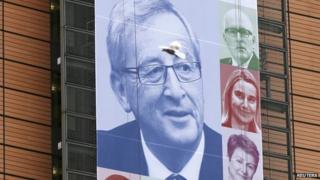 European Commission President Jean-Claude Juncker has criticised the leaders of Britain and Italy for their behaviour after last month's European Council meeting.
He singled out UK PM David Cameron and Italian PM Matteo Renzi for their critical comments on the EU.
Mr Cameron insisted at the time that he would not pay an "unacceptable" 2.1bn-euro EU surcharge.
Mr Renzi was highly critical of EU civil servants after the meeting.
He complained that the EU was overtly bureaucratic. At one point he warned that he would make public the cost of EU "palaces" in a row over Italy's budget projections.
The Netherlands have also been asked to pay more - but France and Germany are both set to receive rebates.
'Gang of bureaucrats'
Mr Juncker was quick to defend the EU from he saw as unjustified criticism.
"I didn't like the way several prime ministers were behaving after the European Council," the former prime minister of Luxembourg said on Tuesday.
"For a long period of time I've taken notes and I was always comparing what is said in the room and what is said outside the room. And from time to time it happens that the notes are not coinciding.
"I have to tell my good friend Matteo Renzi that I am not the chairman of a gang of bureaucrats... I am the president of the European Commission which is a political body."
Losers
Additional sum to pay
United Kingdom
£1,676m
Netherlands
£506m
Italy
£268m
Greece
£70m
Cyprus
£33m
Winners
Reduction
France
£801m
Germany
£614m
Denmark
£253m
Poland
£249m
Austria
£232m
Speaking in the European parliament, Mr Juncker said EU summits were there to solve problems not amplify or broaden them as Mr Renzi had claimed.
He described the way Mr Cameron was presenting things as "not correct". The British prime minister has pledged not to meet the 1 December deadline for the surcharge to be paid.
"They are presented in a totally different way in parts of British public opinion," Mr Juncker said, pointing out that the rules of the EU should be better respected.
The row over the bill has added to the pressure on Mr Cameron domestically, correspondents say, and comes at a time when he is tackling the growing popularity of the anti-EU UK Independence Party ahead of elections in 2015.
The commission's surcharge followed a statistical review of national incomes which showed that Britain's economy had performed better that previously thought - which in turn meant that it was obliged to make an extra contribution to the EU budget.