EU migrants: Merkel v Cameron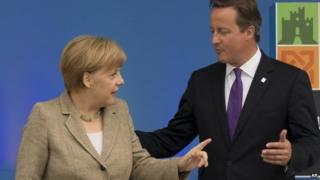 The suggestion that Angela Merkel would rather see Britain leave the EU than accede to changes to the EU's freedom of movement principle has raised political temperatures in the UK.
Firstly, within the political establishment in Berlin there is increasing frustration with the UK. They do not know what David Cameron wants and are increasingly sensitive to demands that appear to be endlessly changing.
In particular the Germans are alarmed by the suggestion of "caps" or "quotas" or "emergency brakes" on the numbers of EU migrants arriving in Britain. They believe that would undermine freedom of movement, a core EU principle.
At the European summit on 25 October Angela Merkel was asked about a possible UK move to change the treaties to reduce the number of migrants.
"We have the basic principle of free movement," said the German chancellor, "and we won't meddle with that." It was her way of saying free movement was not up for negotiation.
She did say Germany had referred the issue of social insurance for migrant workers to the European Court and she had told David Cameron that they would study the opinion very closely.
The Germans are concerned that migrants might try to return to Germany just to get benefits.
Merkel's warning
So the message sent to London was clear: there is room for manoeuvre when it comes to tackling "abuses" but there is deep-rooted opposition to any attempt to weaken the principle of free movement itself.
That message has repeated by the new President of the European Commission Jean-Claude Juncker.
The German magazine Der Spiegel has gone further and suggested that Angela Merkel warned David Cameron that his attempts to limit migration risked pushing Britain towards leaving the EU.
If the British prime minister persisted then she would withdraw her support for Britain staying in the EU.
The article was written by Nikolaus Blome, who said "the UK, your government, is going against some fundamental points of the European Union which is the free movement of people.
"And from that point on it will be more important for the German government to save these European fundamentals in comparison with keeping the United Kingdom inside."
It is hard to know precisely what Angela Merkel said to David Cameron. A senior official in Berlin has suggested not paying too much attention to the article.
Certainly it would be out of character for Angela Merkel to play her hand early; she likes taking decisions at the last moment and resists being backed into a corner.
However, there is a weariness with Britain in Berlin and little appetite to give London any special offers or opt outs. That weariness extends to some in the chancellor's inner circle.
It may well be that when David Cameron outlines his position on EU migration sometime between now and the end of the year he will have dropped the suggestion of capping numbers.
It would be hard to progress in the face of determined German opposition. And it may be what this episode is all about.
So in Downing Street the search may be on to find a formula that appears to make it harder for EU migrants to stay in Britain but does not undermine the principle of free movement.
There are indications that the government is looking at whether tax credits can be denied to migrants until they have contributed or whether migrants will have to show proof of employment and evidence that they can support themselves.
Open Europe, a think tank lobbying for radical EU reform, has today argued that national governments should be able to limit EU migrants' access to out-of-work benefits and social housing until after three years.
They suggest this could be achieved by amending existing EU law.
That is where wriggle-room lies; the only question is whether that would be enough for David Cameron to herald as a major reform. What will be very difficult to deliver is limiting net migration to below 100,000.
And that will be the problem all the way to the potential referendum in 2017; being able to demonstrate real change as a result of re-negotiation.
And, in the meantime, a fast-charging UK economy acts as a magnet for many EU workers.