Priest appeals for churches to sell unused gold to help fund teacher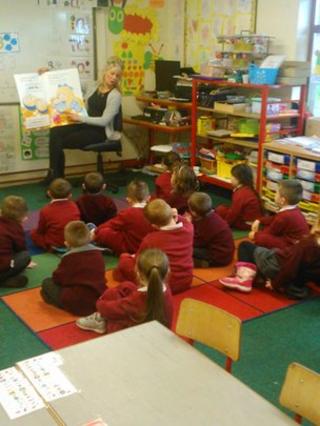 A priest has appealed for churches in the Republic of Ireland to sell their unused gold objects to help fund a teacher in a Limerick primary school.
Parish priest Fr Tony O'Riordan made the call after funding was withdrawn for a teacher at Corpus Christi school in Moyross.
As a result, 32 pupils are now being taught by one teacher instead of two.
The church has provided funding for a month to pay for another teacher.
"We don't have the resources beyond a month to fund that salary and we are making this appeal to churches up and down the country that might help us," Fr O'Riordan said.
"What I'm asking is that the church family up and down the country would consider looking at its gold stock and maybe selling some of that to help us.
"There are many churches and religious communities that probably have gold vessels, some of which are not used and they're stored away.
'Make ends meet'
"What we're asking is that maybe people could review what they hold and maybe consider selling some of that and forwarding the money to us."
The idea came to Fr O'Riordan because many of his parishioners have had to sell jewellery to make ends meet.
The school was informed almost two weeks ago that funding for a teacher at the school had been withdrawn.
"We had an intake of 32 four-year-olds in September and they were split into two classes of 16 and now that one of those teaching positions has been suppressed we were faced with the situation of merging those two classes," he said.
Fr O'Riordan said the primary school was the only school in the area for boys and girls aged four to 12.
"Moyross has one of the greatest concentrations of poverty and households living in poverty in the Republic of Ireland so the children are coming from poor households and poverty has a strain and knock-on effect," he said.
'Active citizens'
"When our children come to school they are often a year or two years behind their peers in other schools in terms of their speech and language, poor social behaviour, their ability to read and write, so it is imperative then that when they arrive at school that we do everything we can to bridge that gap."
He said many children had been helped.
"When these children are with us for about two or three years we find that they have reached the national average in terms of literacy and numeracy but that is only made possible by appropriate pupil teacher ratios," he added.
"Unless an appropriate pupil teacher ratio is maintained then these children will not get the education that is their right and entitlement and that will in fact help them become active citizens rather than dependent citizens on the state."
The priest said the school and parish would continue to lobby the Department of Education to reinstate the funding.
'Modest request'
"What we're talking here about is less than 1,000 euros [£780] investment in each of these children in one of the poorest parts of the country to give them a start in life that will open up opportunities, education leads to opportunity, lack of education leads to closing down opportunities.
"We think it's a very modest request for these children, in fact, it's a basic right to give them a good education. I think 1,000 euros is well-worth investing in these children.
"In the meantime we can't wait for the department to see our point of view so we will continue a twin-track approach."
In a statement, the Department of Education said funding for a teaching post at the primary school had been withdrawn because the school had failed to reach a pupil quota.
"For the 2014/15 school year, the school was provisionally awarded a further developing school post, on the basis that its enrolment in September 2014 would be at least 227," the statement said.
"The final enrolment for September 2014 was 12 pupils less than this requirement and the school was notified that its staff numbers would reflect that enrolment, and the additional developing school post would be redeployed."
The Department of Education said if, over the coming months, it could be established that additional children would be enrolled in the school for 2014/15, it would review staffing levels.