Remi Fraisse death: France dam work at Sivens could halt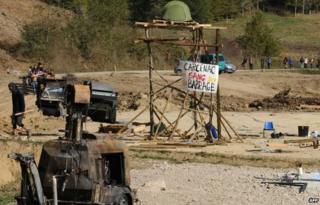 The death of a young protester, which has shaken the French government, could put a halt to work on a controversial dam in southern France, officials say.
Remi Fraisse, 21, was fatally wounded in clashes with police in the early hours of Sunday, the first such death in France since 1986.
His death has been blamed on a concussion grenade fired in the unrest.
The local authority leader says work on the dam will probably be suspended and ministers have welcomed the idea.
Thierry Carcenac, Socialist head of Tarn general council in the south-west, said there had to be suspension on work and did not rule out any option on the future of operations at the Sivens dam.
"I also think we have to review the project completely," he told La Depeche du Midi newspaper (in French).
A concussion grenade fired by police was seen by investigators as the most likely cause of Remi Fraisse's death after traces of TNT explosive were found on his clothing.
Interior Minister Bernard Cazeneuve immediately announced a suspension of the use of such grenades.
Facing calls to resign over the death, he told French radio he had "absolutely no intention of quitting when I am doing my duty to the state and the republic".
Outrage at the death sparked protests in several French cities, and violence broke out on Monday in Albi, the town closest to the dam, as well as Nantes and Rennes.
The violence at Sivens resonated particularly in Nantes, which has seen several clashes between the authorities and environmental activists angry at the construction of a new international airport.
Opponents of the €8.4m (£6.6m; $10.7m) dam scheme say it will harm the environment, but officials say it is necessary to boost the local economy and provide irrigation for farms in the area.
Labour minister Francois Rebsamen said his personal feeling would be to back a halt to operations. "Of course it's the general council's responsibility but to restore calm right now, the best thing is to suspend the project".
Ecology minister Segolene Royal said she would hold a meeting of everyone involved next Tuesday.
"We have to find a solution that justifies the use of public and European money on works such as these," she said.