Magnum photographer Rene Burri dies aged 81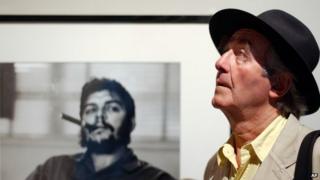 Swiss photographer Rene Burri, celebrated for his photos of Che Guevara and Pablo Picasso, has died aged 81, Magnum Photos says.
The agency, which Burri joined in 1955, becoming a full member in 1959, said he died of cancer in Zurich.
Mr Burri's long career began at the age of 13 when he photographed then British Prime Minister Winston Churchill on a visit to Switzerland.
He is survived by his second wife and three children.
Martin Parr, the president of Magnum Photos said in a statement: "Not only was he one of the great post-war photographers, he was also one of the most generous people I have had the privilege to meet."
"[His] contribution to Magnum and his unrivalled ability to tell stories and entertain us over this time will be part of his enormous legacy," Mr Parr added. "Our thoughts and best wishes go out to his family."
Guevara, Castro and Picasso
Rene Burri was born in Zurich in 1933.
He enrolled in the Arts and Crafts School of Zurich, before being employed as an assistant cameraman for Walt Disney films in Switzerland.
Working with Magnum, he became a regular contributor to publications such as Life, the New York Times and Paris-Match, travelling extensively whilst doing so.
In 1963 he went to Cuba and took the now famous photo of communist revolutionary Che Guevara smoking a cigar.
Burri also photographed celebrities as diverse as former Cubean President Fidel Castro, architect Le Corbusier and artist Pablo Picasso.
In 1965 Burri was involved in the creation of Magnum Films. He travelled to China, spending six months there making the BBC-produced film The Two Faces of China.
He has left archives of around 30,000 pictures to the Musee de l'Elysee in the Swiss city of Lausanne.