Irish budget: Michael Noonan to reveal non-austerity budget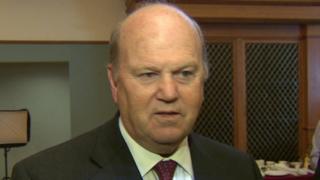 Ireland's finance minister is due to deliver the country's first non-austerity budget in seven years.
Tax rises and spending cuts of about 30bn euros (£23.7bn) been have imposed since 2007 in response to the country's financial crisis.
However, a strong economic performance over the last year means no further austerity measures will be introduced.
It is widely expected that the top rate of income tax - 41% on earnings over 32,800 euros (£25,958) - will be cut.
The Irish government is also expected to announce it will phase out the controversial "Double Irish" tax loophole.
It has allowed large multinationals like Facebook to legally shift huge profits from Ireland to countries that are considered tax havens.
It works by allowing one Irish registered subsidiary to make payments, for using intellectual property, to another subsidiary which is tax resident in a country like Bermuda or the Cayman Islands.
Ireland has used its tax advantages as a major selling point for multinationals, so it is expected that measures to compensate for the closure of this loophole will be introduced.
These are likely to include a "patent box" regime similar to the one operating in the UK.
This is a reduced level of corporation tax on profits attributed to patents and similar types of intellectual property.
Finance Minister Michael Noonan is also expected to announce funding to increase the number of teachers and a package of measures to encourage house-building.
Mr Noonan is presiding over the fasting growing Eurozone economy. He expects growth of 4.5% this year, a forecast thought conservative by some commentators.
However, unemployment remains high at just over 11% and many people feel they are not sharing in the recovery.
The introduction of water charges, which was a condition of the country's EU/IMF bailout, is hugely unpopular.
An anti-water charges rally in Dublin on Saturday was one of the biggest protests the city has seen in years.
A Trotskyite candidate standing on an anti-water charges platform was also the surprise winner of a by-election to the country's parliament on Saturday.