Irish government budget announcement to include water charge measures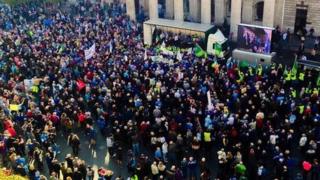 The Irish government is to include measures to help householders pay for water charges in Tuesday's budget announcement, it is understood.
It is expected the measures will also be help ease payments for social welfare recipients.
Water charges were introduced in the Republic of Ireland at the start of October.
Thousands of people protested against the charges in Dublin on Saturday.
A police source estimated the attendance as 30,000 people, although organisers Right2Water claimed it was much higher.
The introduction of the controversial charges was a key part of Ireland's international financial bailout deal.
Earlier, Labour parliament member Aodhán Ó Ríordáin said that he expected Tuesday's budget to include some water charges relief measures.
However, he said the charges would stay as people had to pay for public services that work.