Hinkley Point power plant approval provokes environmental concerns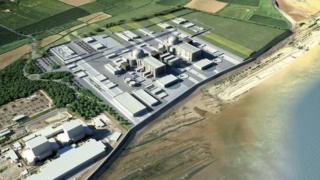 Irish environmentalists and politicians have raised concerns over the building of a nuclear power station in England.
The £24.5bn scheme at Hinkley Point, Somerset, is to go ahead after it received final approval from European Union regulators.
The plant is 240km from the Irish coastline.
Eamon Ryan, the leader of the Green Party, said the Irish government had turned a blind eye to "the dawning of this new nuclear age in Britain".
He called on Environment Minister Alan Kelly to explain how he will respond to the decision.
Mr Ryan added: "There is no accounting for the security risks that come with the building of such a plant, and no apportioning of the massive clean-up costs that will come when the plant has to be decommissioned."
The European Commission said the plant was given the go ahead as Britain had agreed to "modify significantly" the financing of the project, reducing the burden on British taxpayers.
EDF Energy is due to build the plant, the first in the UK in almost 20 years.
'Consult'
The National Trust of Ireland, An Taisce, said that Ireland should have been consulted in the development of the plant.
The organisation have an ongoing legal action against the building of Hinkley Point C, but said the state aid investigation by the European Commission was different from their legal objections.
A spokesperson said: "An Taisce's case is against the UK government on the grounds that we believe they did not apply international law, EU law and English law correctly, in that they failed to consult with their neighbours, the people of Ireland, prior to the granting of permission for Hinkley Point C."
Michael Moynihan, Fianna Fáil spokesman on natural resources, called on Irish prime minister (Taoiseach) Enda Kenny to say if he had made any representations to Prime Minister David Cameron on Hinkley.
"Ireland needs to robustly defend its interests here," he said.
"We cannot stand aside and watch Britain potentially build another harmful nuclear power plant, which could have a devastating environmental impact on the Irish Sea and on the Irish east coast."
The Irish environment department said it had not received a full written report from Brussels on the state aid ruling.
A spokesman said: "When these details are received they will be examined and a decision will be taken as to what action, if any, is required to be taken by Ireland.
"Matters in relation to state aid are generally a matter for the Department of Finance."