Media alarmed as Islamic State enters Kobane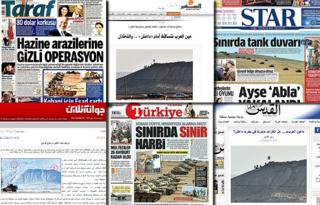 Islamic State's advance on the northern Syrian town of Kobane, which is on the Turkish border, has caused alarm in media across the Middle East.
In Turkey, many newspapers publish pictures of Turkish tanks positioned on the border with Syria. Some also carry Prime Minister Ahmet Davutoglu's remarks that Ankara is willing to send troops to Syria if the US targets the government of President Bashar al-Assad.
"The circle is closing" is how the hoisting of IS flags on buildings and hills in and around Kobane is described by a headline in Hurriyet, one of Turkey's main newspapers. The centre-right daily HaberTurk calls the situation in Kobane "a fight for survival".
"Islamic State plants its flag, our army is ready for war," proclaims a giant front-page headline in the tabloid Sozcu.
But a commentary in moderate pro-government daily Yeni Safak warns that military force may not be of much use in the fight against IS. Instead, it argues that the best way to combat Islamist militancy is to set up a government in Damascus in which Sunnis would be fairly represented. And that, the paper says, is highly unlikely to happen until President Assad goes.
And Taha Akyol, writing in the centre-right Hurriyet says: "It is important for Turkey to side with its Western allies, but not to appear to be taking part in a sectarian war in Middle East. It is equally important for Turkey to avoid the quagmire of a territorial war.''
'Colonial desires'
In Iran, there is concern that Turkey may be planning to spread its regional influence by invading Syria.
Moderate daily Mardom Salari writes of "neo-Ottoman expansionist trends" and is worried that "Turkey intends to invade Syria in order to establish a puppet government".
Conservative Jomhuri-ye Eslami goes further, suggesting that Turkey actually seeks to "implement America's colonial desires in the region".
"Everyone knows that the coalition America has formed is not to fight IS, but to compensate for its failures in Syria and Iraq," the paper says.
Another conservative daily, Javan, echoes this sentiment, saying that the anti-IS campaign is yet another attempt by Washington to "overthrow the Syrian government and weaken Shia power in Iraq".
'Imminent massacre'
Looking at tensions between Iran and Turkey, commentators in the Middle East are worried that they may escalate into an armed conflict between the two states.
According to Jordanian daily Al-Rai, one of the most worrying signs is Tehran's warnings to Ankara not to intervene in Syria.
In Sunni-ruled Saudi Arabia, an editorial in pro-government newspaper Al-Watan accuses mainly Shia Iran of pursuing "unfriendly policies" in the region. It also urges a concerted international effort to make Tehran "forget its antagonistic approach".
The battle for Kobane is the focus of top headlines in newspapers sold across the Middle East, such as the Saudi paper Al-Watan.
Pan-Arab nationalist daily Al-Quds Al-Arabi sounds exasperated at what it sees as a lack of progress in the global fight against terrorism.
"How many years will it take before Islamic State is crushed, according to Obama's futile or at least limping strategy?" asks an editorial.
An article in the Lebanese newspaper Al-Safir, which is normally critical of the West, argues that the likely fall of Kobane is "the first actual defeat the Islamic State inflicted on the so-called alliance against terrorism". It accuses the international community and Turkey in particular of failing to protect Kurds in the town from an "imminent massacre" by IS militants and warns of "large-scale ethnic cleansing in northern Syria".
BBC Monitoring reports and analyses news from TV, radio, web and print media around the world. For more reports from BBC Monitoring, click here. You can follow BBC Monitoring on Twitter and Facebook.