Spanish Ebola case: Press questions government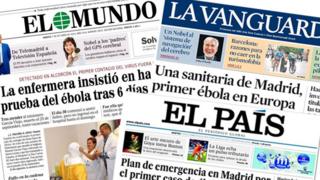 The Spanish press wonders how a nurse could have contracted Ebola in Spain, and questions the response from the Spanish authorities.
Protocol failure?
What has happened? - asks the lead editorial feature in major daily El Pais.
Another major paper, El Mundo, wonders whether the World Health Organization security protocol is inadequate or only failed at some point, either because it was not followed properly, or the protection equipment was defective. "On the other hand," the paper says, "there is never a zero risk with any infectious disease."
El Pais quotes a union leader from the Carlos III hospital in Madrid, ruling out "a human error" by the infected nurse. "The protocol was poorly activated and did not work well," Teresa Moral told the paper.
In another report, El Pais says that the protective clothing did not have level-four biological security, which is fully waterproof and with independent breathing apparatus. Instead it was level two - the overalls did not allow for ventilation and the gloves were made of latex and bound with adhesive tape, according to photographs provided by health workers.
What some papers consider a clear failure is the fact that the nurse was turned away when she first reported her suspicions of being infected with Ebola.
A front page piece in El Mundo says the nurse asked several times to be tested, but it was only done after she had fever for six days. "It may be surprising that a person who had been in contact with an Ebola patient, instead of being hospitalised just with first signs of fever, goes on holiday," the paper comments in an editorial.
El Mundo also quotes critical comments from staff in Alcorcon hospital of the insufficient security measures taken when the infected nurse was admitted there.
Avoiding panic
The news of the infection has generated "social alarm", says ABC news website. The Barcelona-based La Vanguardia says in its headline piece that the Spanish health ministry doesn't rule out the possibility of further cases of Ebola.
But other papers are trying to ease the panic. El Mundo stresses that Ebola does not spread by air, but by contact with the bodily fluids of the person in an advanced stage of the disease. "It is necessary to send a message of reassurance to the population," the paper says.
El Pais is in favour of transparency, noting that "alarm can only be avoided through abundant, accurate and credible information".
However, El Mundo says Spanish Health Minister Ana Mato fell short of transparency on Monday during what it calls an "unsatisfactory press conference".
"The minister limited herself to saying they didn't know what had happened," adds El Pais.
Political fallout
While El Mundo suggests it is too early to call for heads to roll, El Diario news website believes the contrary. It blames the government for taking an unnecessary risk by bringing infected priests to Spain, given the little chance there was to save them.
The ruling party "did not mind ignoring warnings and jeopardising the health of the whole country just to score a media goal disguised as humanitarianism," Javier Gallego writes.
Calling the health minister incompetent, he compares the Spanish government to the Ebola virus, which "is invisible, but lethal".
BBC Monitoring reports and analyses news from TV, radio, web and print media around the world. More reports from BBC Monitoring can be seen here. You can follow BBC Monitoring on Twitter and Facebook.