Sean Parker: Irish village brings home its 'lost son'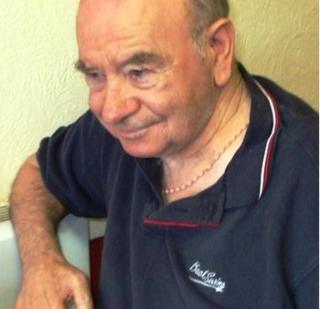 An Irish emigrant who was due to be buried in an unmarked grave has been brought back to his homeland after an Irish village answered a call for help.
Sean Parker, who became homeless after emigrating in the 1950s, died in a Kent care home in July, without any family or friends to arrange his funeral.
However, his former neighbours in Glinsk, County Galway, answered a public appeal to trace his relatives.
They have helped to repatriate him and buried him close to his mother's grave.
Residents from the village gathered at Glinsk parish church for his funeral on Wednesday, where they heard tributes to one of their lost sons.
'Cried'
Some elderly members of the community remembered Mr Parker as a child, but their recollections were tinged with sadness.
One man recalled Mr Parker leaving his home village to live in Dublin, and how he cried as he had to leave his pet dog behind with neighbours.
The pensioner, who never married and had no children, later emigrated to England, where he appears to have had a difficult life, living on the streets of London for a while.
He spent the last few years of his life in a nursing home in Medway, Kent, where he died on 22 July.
Volunteers
Reluctant to bury him in an unmarked grave, officials at Medway Council placed a notice in an Irish newspaper, appealing for relatives to come forward.
The villagers in Glinsk recognised Mr Parker's description from radio and newspaper appeals and volunteered to trace his family history, in order to prove he was one of their own.
They were instrumental in helping Medway Council to make the arrangements necessary to bring the pensioner home to the Republic of Ireland.
Mr Parker was laid to rest close to his late mother in Ballinakill graveyard, Glinsk, on Wednesday afternoon.
His body had been flown from Gatwick Airport to Knock, County Mayo, on Tuesday, after a number of undertakers from both England and Ireland volunteered to assist the repatriation, free of charge.
A group of residents from Glinsk travelled to Knock Airport to meet the flight, formed a cortege and escorted the body to their village.
The villagers, who managed to trace Mr Parker's birth certificate, baptismal records and school attendance documents, were unable to find any living relatives belonging to the pensioner.
'Outpouring of generosity'
However, they identified the grave of his mother Annie, who died in April 1945 when Mr Parker was about 10.
The volunteers were led by Glinsk historian and former school principal Marty Ward, who said they had been "overwhelmed by the level of support from so many people and agencies" who volunteered to assist with the repatriation and funeral.
He added there had been an "outpouring of generosity" and everyone who offered help had agreed to waive their fees.
"We just wanted one thing, that Sean had the dignity of a proper burial in Glinsk," Mr Ward said.
Traditionally in Ireland, gifts representing the life of the deceased are brought to the church during Catholic funerals.
The mourners brought an original school register, showing Mr Parker's attendance at Ballincurry National School, and an ornament representing his beloved terrier dog.
If the villagers had not responded, Medway Council would have faced the task of burying the pensioner in an unmarked grave.
The council's public appeal was the work of its bereavement and registration services manager, Paul Edwards.
'Astounded'
He was not able to attend Wednesday's ceremony in person but told the Press Association he was "pleased Mr Parker has been returned home and will be given the funeral he deserves".
"This all started with a small advert in a local newspaper and we have been astounded with the response from the Irish media and in particular the residents of Galway who have helped to piece Sean's life story together and ensure he is laid to rest in an appropriate setting," Mr Edwards added.