Martin McGuinness says Orange hall attack in Convoy, County Donegal, disgusting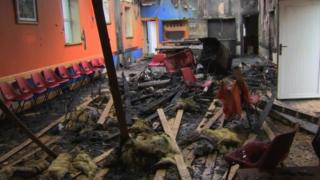 Deputy First Minister Martin McGuinness has said he was "horrified and disgusted" by an arson attack on an Orange hall in County Donegal.
The hall in Convoy was destroyed and an attempt was also made to burn down a Presbyterian church in the village.
The fire at the hall was started at about 04:00 BST on Friday.
Orange Order grand secretary Drew Nelson said it was similar to an attack on a hall nearby at Newtowncunningham.
Mr McGuinness said he was "absolutely infuriated" by the Convoy attack.
"I want to make it absolutely clear that, in my opinion, whatever was behind the motivation of those who were responsible for these deeds, there wasn't anything republican about it, there wasn't anything political about it, but there was everything criminal about it," he said.
Attempts were also made to set fire to Convoy Presbyterian Church's pulpit and a room at the back of the building.
Irish Prime Minister Enda Kenna described the attacks as "acts of criminality" and said assistance would be offered through reconciliation funding to help the Protestant community affected in Donegal.
First Minister Peter Robinson said he was welcomed the condemnation from both Mr McGuinness and Mr Kenny.
"We stand with the minority Protestant community in Donegal who will be uneasy at this present time," he said.
'Besieged'
Rev Colin McKibbin from Convoy Presbyterian Church said he was "saddened" that someone would enter a place of worship and try to burn it.
He was alerted by a member of the congregation at about 09:30 BST on Friday.
"We saw that the back door had been kicked in and taken off its hinges," he said.
"A Bible had been burnt in the back room and then as we opened the door to go into the main church somebody had tried to set fire to the pulpit and had broken a couple of the pulpit light stands.
"Fortunately enough, the papers that were set alight burnt out and the rest didn't catch fire although there's quite a smell of smoke throughout the church.
"The damage is not that great, thankfully."
The minister said the church worked well with all sides of the community and said all sides had condemned what had happened.
Local Catholic priest Fr Philip Kemmy said he was "shocked" and "saddened" by the attacks.
"I feel heartbroken for Rev Colin, for his church and the hall here as well because it is a desecration of what people hold very dear," he said.
Convoy Presbyterian Church is a short distance from the Orange hall.
Mr Nelson said the Orange hall was built in the 1930s and was used by the local community.
He said it appeared that someone had broken into the building and set it alight.
"We are very disturbed at what seems to be an emerging pattern," he said.
"There is a small Protestant minority community in Donegal and they are beginning to feel a bit besieged."
Sinn Féin councillor Liam Doherty, who lives nearby, said the fire had spread rapidly through the building.
"It's hard to speculate, but it's looking like it was done maliciously," he said.
"It's devastating for the whole community - it's not just an Orange hall, it was used by people from all walks of life."
Last month, dissident republicans claimed responsibility for a device that partially exploded outside Carnagh Orange hall, near Keady, County Armagh.