Turkish papers suspicious ahead of 'war vote'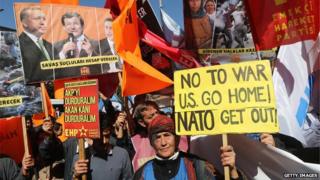 Turkey's newspapers are unconvinced by a government motion presented before parliament that would allow the use of troops in Syria and Iraq to crush Islamic State.
Many papers lead with President Recep Tayyip Erdogan's arguments in favour of joining the US-led alliance against Islamic State (IS), with centre-right newspaper Aksam, for example, carrying on its front page the president's warning: "Turkey is facing a great threat."
But commentators urge caution, with some warning that Turkey stands to lose more than it will gain from involvement in the war, and others suspecting that the target of the government is not Islamists abroad but Turkey's own Kurds.
Several writers recall a similar vote in 2003, when parliament failed to approve a motion allowing US forces to use Turkish territory as a springboard to attack Iraq's Saddam Hussein. It did, however, allow its airspace to be used.
'Won't please anyone'
Ali Bulac writing in moderate Islamist paper Zaman, which is critical of the government, warns that joining the anti-IS coalition will be a mistake as it ''will please neither the Syrian administration, nor the Kurds and Arabs. Sunni Arabs, who think that they have got a new state through IS, will not like our involvement at all''.
He says Turkey gained credibility by refusing the US land access in its Iraq campaign in 2003, but now with this motion, ''Turkey, whose credibility has sunk over the past three years, will shoot itself in the foot''.
Markar Esayan, commenting in pro-government Yeni Safak, suggests that ''Turkey should say that it is not a part of this war; that its contribution will be to protect the innocent. It will retain the moral high ground and set itself apart from the USA's superficial plan against IS.''
In centrist paper Vatan, Okay Gonensin warns that Turkey risks getting stuck in a quagmire.
''The motion envisages involvement in a wide war zone where Sunnis, Shias, the Iraqi central administration, the Kurdish regional government, the Syrian government and the Syrian Kurds are all involved. It is not possible to be optimistic about any of the scenarios related to this motion,'' says the writer.
PKK is 'real target'
Several commentators suspect that the real target of the motion is the PKK (Kurdistan Workers' Party), which for decades waged an armed struggle for Kurdish rights in Turkey before agreeing to a ceasefire and entering negotiations with the government.
Ali Sirmen, writing in the opposition nationalist daily Cumhuriyet, says the motion isn't clear enough about what the government can do.
''We understand that one of the government's targets across the border is the PKK. Does the government think that the PKK continues to be an armed terror organisation?'' Ali Sirmen says.
Another commentator, Cengiz Candar, says in centre-left paper Radikal that ''Ankara's Kurdish obsession'' has not disappeared, in spite of the ongoing peace talks, and that the PKK was the real target of the motion.
BBC Monitoring reports and analyses news from TV, radio, web and print media around the world. For more reports from BBC Monitoring, click here. You can follow BBC Monitoring on Twitter and Facebook.