Crop project wins Google science fair prize for Kinsale teenagers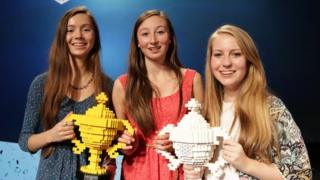 Three schoolgirls from Kinsale, Ireland, have won a $50,000 (£30,700) science prize for a three-year project they conducted in their back garden.
Ciara Judge, 16, Émer Hickey, 16, and Sophie Healy-Thow, 17, were awarded the grand prize at the Google Science Fair.
They discovered that applying a naturally-occurring bacteria, called rhizobia, to barley and oat seeds, increased the crop yield by 74%.
The discovery could increase efficiency in global food production.
The girls conducted 130,000 measurements and observations, including round-the-clock monitoring, to log when seeds germinated.
Their experimenting started in October 2012, after they spent several months researching the project, and transformed a spare bedroom into a laboratory.
Cereal seeds
They discovered that applying the bacteria halved the time seeds took to germinate, and resulted in plants with higher productivity.
The bacteria is found naturally in soil and is known to work on some vegetable seeds by fixing nitrogen in the seed, but this is not how it reacts with cereal crops.
"There are secondary compounds that the bacteria releases which act like an enzyme," said Émer Hickey, although precise details of how this happens is still unknown.
Teenage ideas
The technique has significant potential for increasing yields of food crops and reducing losses due to bad weather.
It could also reduce the need for expensive and environmentally harmful fertilizers, and provide cost-effective solutions for developing world farmers to increase productivity.
The trio were shocked to win the grand prize at the Google Science Fair, which was held in California on Wednesday 22 September.
The other finalists were aged from 14 to 17 years old and their projects included drones that mimic fruit flies and a bioreactor that cleans oil sands.
Future
Looking to the future, Ciara Judge said: "We want to do an advanced analysis to understand fully how the bacteria works in the seed, and then take this on to commercialisation."
They plan to use part of the prize money to conduct this more expensive form or research.
Sophie Healy-Thow also hopes to put part of the money towards her university education.
"I'd like to study marine biology. There's so much we don't know about how plants can help us," she said.