Russia seizes shares of Bashneft oil boss Yevtushenkov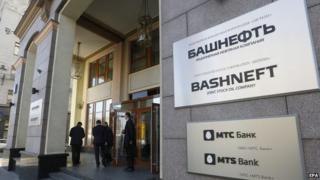 A Russian court has seized shares in a major oil company, Bashneft, whose billionaire owner Vladimir Yevtushenkov is under house arrest.
Prosecutors had requested the seizure as part of an investigation into alleged money-laundering at Bashneft.
Mr Yevtushenkov's company Sistema has controlling stakes in Bashneft and Russia's biggest mobile operator MTS. Sistema has denied any wrongdoing.
The case has been compared to the state's takeover of oil giant Yukos.
The former Yukos owner, Mikhail Khodorkovsky, was arrested in 2003 and spent a decade in jail. It was at one point Russia's biggest oil company but its assets were eventually broken up, many of them bought by state energy giant Rosneft, now the world's largest oil producer.
Rosneft was earlier this year reported to be keen to buy Bashneft, which runs oilfields and refineries in the republic of Bashkortostan, in Russia's Urals region.
Some Russian business leaders and prominent politicians have warned that Mr Yevtushenkov's arrest is damaging for the investment climate in Russia.
The case coincides with Western sanctions against Russia over its involvement in Ukraine - sanctions which include restrictions on exports to state-owned Russian oil firms.
The business website Forbes estimates Mr Yevtushenkov's fortune at $3.5bn (£2.7bn).
The 66-year-old had a plea for bail rejected and is banned from using the phone or internet except to contact family members, lawyers or investigators, AFP news agency reports. His house arrest has been extended until 16 November.
President Vladimir Putin's spokesman has denied any political motive in the case.
Russia's Federal Investigative Committee said he was accused of money-laundering that involved the illegal acquisition of oil assets in the BashTek group in Bashkortostan during privatisation. In 2009, Sistema bought six BashTek companies, which were then taken over by Bashneft.
If found guilty he could face up to 10 years in jail, reports say. Sistema said the acquisition of BashTek was "legal and transparent".