Ebola outbreak: MSF sends sick French aid worker home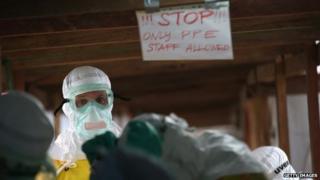 A French aid worker from the medical charity Medecins Sans Frontieres (MSF) has contracted the Ebola virus in Liberia, reports say.
It follows a warning by the World Bank that the epidemic is threatening economic disaster across West Africa.
The woman is being repatriated to the French capital Paris under maximum security.
Ebola has killed 2,461 people in West Africa - the largest ever outbreak.
MSF president Mego Terzian said the French Ebola patient was believed to be in a stable condition and was expected back in Paris on Thursday.
Although the woman is the first Western MSF worker to have caught the disease, "unfortunately several African MSF colleagues have been affected," he added.
He gave no further details on the woman involved, other than saying she had been placed in isolation on Tuesday after showing Ebola symptoms.
'Economic catastrophe'
The charity has had more than 2000 staff working in the region, including about 200 international workers.
However, health organisations have been warning that medical facilities are so overstretched, they are having to turn new cases away to die in the streets.
On Wednesday, the World Bank warned that the Ebola outbreak could have catastrophic consequences, saying its impact on the economies of Guinea, Liberia and Sierra Leone could multiply "eight-fold" in these "already fragile states".
However, the cost can be limited if the epidemic - and the accompanying fear - is contained by a fast global response, the report said.
'Unparalleled' modern emergency
US President Barack Obama has called the latest outbreak "a threat to global security", and announced a larger US role in fighting the virus. The measures announced included ordering 3,000 US troops to the region and building new healthcare facilities.
The UN Security Council is expected to pass an emergency resolution on Thursday, demanding a more forceful international response to the crisis.
UN officials have described the outbreak as a health crisis "unparalleled in modern times".
The resolution will urge member countries to provide medical staff and field hospitals and call for the lifting of travel restrictions that have prevented health workers from offering assistance.
---
Cumulative deaths - up to 13 September