Malta boat sinking leaves up to 100 children dead - IOM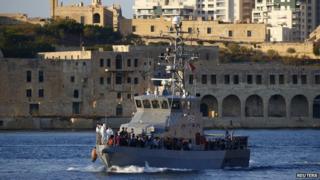 Up to 100 children may have been among 500 people who drowned after a migrant boat was sunk by traffickers near Malta last week, a migration body says.
The International Organisation for Migration (IOM) spoke to four survivors who were rescued from the water.
The eyewitnesses said the boat was rammed by traffickers after passengers refused to switch to a smaller vessel.
The IOM says that more than 2,500 people are now believed to have drowned in the Mediterranean this year.
In a separate incident, more than 200 people are feared to have drowned after their boat sank off the coast of Libya on Sunday.
'Hanged from despair'
Four survivors told the IOM that the traffickers were Egyptian and Palestinian.
They said that had been forced to change boats three times since leaving Egypt in early September.
However, when told to switch to a smaller vessel which many passengers deemed unsafe, a violent argument ensued.
The traffickers then rammed the larger vessel, causing it to begin sinking immediately, the survivors told IOM.
"After they hit our boat they waited to make sure that it had sunk completely before leaving. They were laughing," one of the survivors said.
"When the boat was first struck, one of the passengers killed himself in despair by hanging," he added.
About 300 people on the lower decks were trapped and immediately drowned, the eyewitnesses said.
The survivors said they had linked arms in a circle to avoid getting lost.
---
Major migrant boat tragedies
March 2009: More than 200 African migrants drown after their boat sank off the coast of Libya
October 2013: 366 people, mostly Eritrean, die when their boat catches fire and sinks near Lampedusa
August 2014: About 170 people feared dead after another boat sinks off Libya
---
The migrants had each paid about $2,000 (£1,250) for the journey to Italy.
Nine survivors were found, including a two-year-old girl, but one has since died, the IOM said,
The boat had been carrying Syrians, Palestinians, Egyptians and Sudanese, the survivors said.
The UN says more than 130,000 migrants have arrived in Europe by sea this year, compared with 80,000 last year. Italy has received more than 118,000 migrants, the UN said.
Many attempt to cross from North Africa and the Middle East in unsafe and overcrowded vessels.