Russia must boost Crimea forces, says defence minister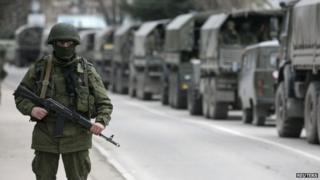 Russia needs to boost forces in Crimea because of the Ukraine crisis and a foreign military build-up, Russia's Defence Minister Sergei Shoigu says.
He said Russia must deploy "a full and self-reliant" military force in Crimea, which it annexed in March.
Pro-Russian rebels in eastern Ukraine launched their bid for separation shortly after the annexation.
Since a truce on 5 September, rebel groups have been posted near Mariupol, a key port on the main route to Crimea.
Ukrainian politicians have expressed fears that Russia may try to connect the rebels in the east with Crimea, a move that would involve seizing Mariupol.
Currently the Crimean peninsula does not have a land border with Russia, which lies just across a narrow strait at Kerch.
Raid on Crimean Tatars
In the peninsula's capital Simferopol masked security men cordoned off the Crimean Tatars' assembly building - the Mejlis - and carried out a search inside on Tuesday.
Security forces also searched at least one Mejlis member's apartment, Russian media reported.
The operation followed Russian local elections, largely boycotted by the Crimean Tatars at the weekend.
Leaders of the 300,000-strong Crimean Tatar community do not recognise the new local administration installed after the Russian annexation. Their spiritual leader, Mustafa Dzhemilev, is banned from Crimea.
Crimean Tatars were deported to Central Asia en masse in Soviet times and many still feel bitter towards Moscow.
Global condemnation
Russian media reports did not specify what extra forces Mr Shoigu was aiming to send to Crimea.
"The situation in Ukraine has deteriorated and the presence of foreign military has increased near our borders," he was quoted as saying at a meeting with military commanders.
About 1,300 soldiers from 15 countries - including the US and other Nato members - are holding military exercises in Lviv in western Ukraine. Mr Shoigu did not refer explicitly to them.
Nato has plans to bolster its military presence in countries bordering Russia, including the Baltic states, which used to be part of the Soviet bloc.
Russia sent thousands of extra troops to the Black Sea peninsula in March, when gunmen in unmarked camouflage blockaded Ukrainian bases there, eventually forcing Ukraine to withdraw.
Russia's actions drew international condemnation. Crimea has been part of Ukraine since 1954, though previously it was under Russian rule.