French PM Manuel Valls wins confidence vote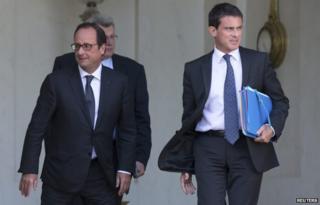 French Prime Minister Manuel Valls has narrowly won a crucial confidence vote in parliament, despite a recent cabinet revolt over austerity measures.
Deputies in the National Assembly voted 269 to 244 in favour of the government's policies.
Mr Valls earlier defended reforms of his Socialist cabinet, saying they did not mean to destroy the welfare state.
Opinion polls put President Francois Hollande's ratings at 13%, with almost two-thirds wanting him to resign.
Mr Hollande has been hit by the cabinet revolt and criticised in a book by former first lady Valerie Trierweiler.
He also faces the return of former centre-right President Nicolas Sarkozy to politics.
'Climate of narcissism'
The confidence vote was brought by Mr Valls himself to try to garner support for his government's economic plans, and also to flush out the opposition within his own party.
Addressing the parliament before the vote, he admitted the cabinet had already lost the trust of many voters.
"I know the French public don't believe in us any more - they're been put off by the political spectacle of the past few weeks; this climate of narcissism and shame," he said.
"But my only mission is to go forward and govern."
At the heart of this political row are the government's plans for spending cuts and pro-business tax breaks which have caused big rifts in the Socialist Party, the BBC's Lucy Williamson in Paris reports.
Many of those on the left of the party had threatened to abstain during the vote, our correspondent says.
On top of a 10% unemployment rate and negligible economic growth, the government has also had to concede that it will be unable to bring its budget deficit below the EU limit until 2017.
Mr Valls has denied telling aides, in remarks quoted in Le Monde newspaper, that "if three to six months from now the situation has not been turned around, we'll be finished".
He has called for party unity, having already warned that the far-right National Front is at the "gates of power".
Sarkozy's comeback?
Meanwhile, Mr Sarkozy is set to return to the political fray by the end of the week, with the aim of leading the opposition UMP into the 2017 presidential election.
Sources said he would either announce his decision in the newspapers or on Facebook.
RTL radio said Mr Sarkozy would put his decision to return to politics down to Francois Hollande's "weakness" as president, as well as the absence of an opposition leader and the rise of the National Front.
Mr Hollande's reputation has taken a buffeting in recent weeks, not least because of a best-selling book by Ms Trierweiler, who claimed the Socialist leader despised the poor, labelling them "the toothless ones".
The president, who has vehemently denied the allegation, is due to face the nation in a lengthy televised news conference on Thursday.