Media praise 'bold' Juncker shake-up of EU Commission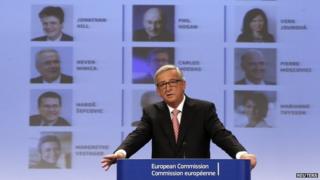 European media have generally praised the new European Commission team named by Commission President Jean-Claude Juncker on Wednesday, though some commentators foresee risks.
His shake-up of the leadership structure is seen as a bold move aimed at giving the Commission more political clout.
France's Liberation correspondent Jean Quatremer in Euronews
"Here we have a Commission president who is acting like a Commission president. He has ideas, he has said that he will make proposals without waiting for the heads of state and government to ask him to do his homework, and he is proposing a combative European Commission."
Jean-Pierre Stroobants and Cecile Ducourtieux in France's Le Monde
"The overall number of political 'heavyweights' is also remarkable: five prime ministers (or former prime ministers), including of course Jean-Claude Juncker, three deputy prime ministers and several serving ministers are joining the team. This time Brussels cannot be accused of 'recycling' politicians who are unwanted in their own countries."
Beda Romano in Italy's Il Sole 24 Ore
"Juncker promised a 'very political' EU executive. Yesterday he confirmed his intentions, putting the finishing touches to a team that is finely balanced politically and geographically, marked by a clear institutional centralisation."
Michela Scacchioli in Italy's La Repubblica
"What's certain is that these appointments are influenced by the tug-of-war between the party of austerity of [German Chancellor] Angela Merkel and that of flexibility supported by the Rome-Paris axis; the hawks of rigour versus the doves of reasonableness. In the end, France and Great Britain win the two 'top positions' for economic and financial policies, with a place on the podium for Germany too, which gets a prominent portfolio."
Editorial in Hungary's Origo news website
"Juncker probably had to play an elaborate game of chess, appointing candidates who are former prime ministers, women, liberals and conservatives to appropriate portfolios, and in this contest he could not give [Foreign Minister Tibor] Navracsics, the representative of an isolated Hungary, a more important portfolio."
Jose Ignacio Torreblanca in Spain's El Pais
"Juncker has bet on an innovative, but risky design… It may not work, but just trying it deserves recognition."
Rosa Massague in Spain's El Periodico
"Juncker seems willing to give the institution much greater weight than it has had so far within the community structure. He has assembled a team that does not match Brussels' usual balance."
Tomasz Bielecki in Poland's Gazeta Wyborcza
"Paris managed to place its former finance minister Pierre Moscovici, a great spokesman for fiscal flexibility, as the commissioner responsible for fiscal discipline... But the Germans managed to force his inclusion in a group of commissioners co-ordinated by Valdis Dombrovskis, a... zealous advocate of austerity. We can expect big Franco-Latvian storms, but the ideological monopoly of austerity has finally been broken."
Cerstin Gammelin in Germany's Sueddeutsche Zeitung
"Juncker is making a brave new start. He is setting out to turn Europe's legislative bureaucracy into a normal political machine of government. Juncker's step is both brave and dangerous at the same time. But there is also no alternative. In light of the desolate economic situation, increasing dissonance between Berlin and Paris over economic policy, growing refugee numbers and geostrategic challenges and - last but not least - the drifting away of the Brits and increasingly Eurosceptic citizens - Juncker had no choice but to send a signal that clearly indicates a new beginning."
Werner Mussler in Germany's Frankfurter Allgemeine Zeitung
"Juncker has created overlapping areas of responsibility between the vice-presidents and commissioners. His ambition appears to create a kind of sense of common interest on the part of the commissioners and make them as independent as possible from the governments that sent them to Brussels. But one wonders whether the commission's new shape really will help them work better."
BBC Monitoring reports and analyses news from TV, radio, web and print media around the world. For more reports from BBC Monitoring, click here. You can follow BBC Monitoring on Twitter and Facebook