France's Hollande 'hurt' by Trierweiler poor claim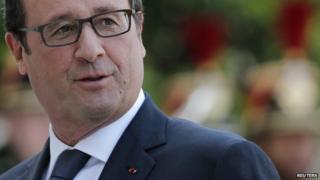 French President Francois Hollande has condemned an accusation by the former first lady that he hates the poor as a "lie that hurts me".
Mr Hollande said he did not want anyone to think he made fun of social hardship.
Valerie Trierweiler wrote in a book about the couple's break-up that he saw the poor as "toothless ones".
She was the president's partner for nine years until a magazine revealed his affair with actress Julie Gayet.
In her memoir, Thank You For This Moment, which was published last week and has already become a best-seller in France, she paints the Socialist president as a callous man who dislikes the poor.
Despite his image as a "man of the left" who disliked the rich, Ms Trierweiler said he secretly despised the poor and talked about "the toothless ones" in private.
The very public row with Ms Trierweiler comes after several difficult weeks for Mr Hollande, who has seen his popularity fall to the lowest for a French president in more than 50 years.
His Socialist government, which is struggling with high unemployment levels and stagnant economic growth, faces a vote of confidence next week.
Finance Minister Michel Sapin cut France's growth forecast this year to 0.4% and announced on Wednesday that the government would be unable to bring its finances in line with EU rules until 2017.
Last month, Prime Minister Manuel Valls replaced his cabinet after left-wing ministers objected publicly to the government's austerity measures.
President Hollande said he had never been on the side of the powerful and "felt this attack on the poor, the dispossessed, as if it were a blow delivered against my entire life".
"I [have] met people suffering the worst kinds of hardships," Mr Hollande told the magazine. "They had trouble caring for their teeth. That's the sign of the worst kind of misery."
A partial transcript of the interview (in French) went online on Wednesday but the full version will be published in the magazine on Thursday.
Mr Hollande spoke of his modest background and of his two grandfathers, one of whom was a tailor, the other a teacher.
He acknowledged that things were uncomfortable for him at the moment but the French people wanted results from him and were not interested in his emotional state, he said.