MH17 crash: Dutch investigators' first findings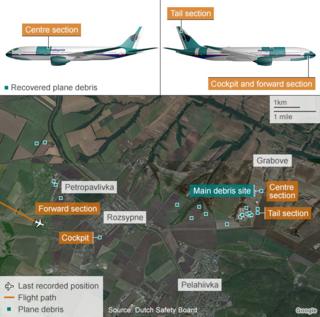 Dutch investigators say the damage to Malaysia Airlines flight MH17, which crashed in eastern Ukraine on 17 July, suggests it was pierced by a large number of objects from outside the plane.
They reveal that a few minutes before the plane went down, the pilots asked to move a few nautical miles north of their flight path because of weather conditions.
The Dutch Safety Board says its preliminary report was based on the contents of the flight and cockpit data recorders, other communication with the plane, as well as forensic examination of the wreckage where possible.
These are its key findings:
MH17 was flying in unrestricted airspace, its engines running normally at 293 knots at 33,000ft (10,000m) cruise altitude
Three other commercial planes were flying over the same airspace at around the same time - the closest 30km (18.5 miles) away
12:53GMT: Dnipropetrovsk air traffic control (ATC) asks MH17 to climb to 35,000ft according to flight plan and to avoid other planes
MH17 says it is unable to comply and ATC agrees it can stay at 33,000ft; other traffic climbs to 35,000ft
13:00: MH17 asks to divert 20 nautical miles to left, due to weather; ATC agrees but refuses permission to climb to 34,000ft
Isolated thunderstorms were apparent in the area with some lightning strikes south-west of Donetsk
13:19:53: MH17 flying 3.6 nautical miles north of centreline of airway
ATC asks MH17 to alter route to "proceed direct" to waypoint Romeo November Delta due to other traffic
13:19:56: Last MH17 crew transmission: "Romeo November Delta, Malaysian One Seven" - confirming flight path
13:19:59: Transmission ends
13:20:03: Flight data and cockpit recordings end abruptly
Dnipropetrovsk ATC contacted several times but with no answer
No aural warnings from crew or alerts of plane system malfunctions; no distress messages received
Likely that damage resulted in loss of structural integrity of aircraft, leading to break-up in the air
Forward parts of plane found near Petropavlivka closest to last flight data broadcast
Cockpit window contained numerous small puncture holes suggesting small objects entered from above level of cockpit floor
Damage to forward section indicates plane penetrated by large number of high energy objects from outside
Wings, engines, fuselage found at main wreckage site 8.5km to east of last recorded position, around Grabove
Aircraft wreckage scattered over approximate area of 10km by 5km, indicating the plane broke up in the air
No evidence found of manipulation of flight and data recorders, handed by rebels to Malaysian official in Donetsk
No indication of technical or operational issues with plane or crew