EU's Juncker gets full European Commission team ready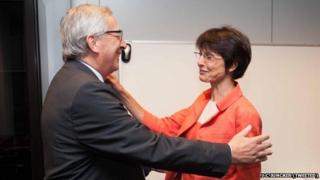 The new European Commission President, Jean-Claude Juncker, has got the minimum nine women that he wanted in his 27-strong team.
He has interviewed all 27 nominees, but their jobs will not be announced until next Tuesday at the earliest.
Each member state has a commissioner, and there is rivalry over the plum jobs. The UK wants its nominee Jonathan Hill to get a top economic job.
Last month Mr Juncker urged governments to nominate more women to his team.
In a triumphant tweet on Thursday he announced: "Done. 27 interviews in 3 days. 9 women, up from 4. Happy to have you".
The European Parliament has stressed the importance of ensuring fair representation of women on the Commission.
Parliament grilling
Later this month the parliament will question each nominee in turn, and the MEPs' approval is required for the new commission to take office.
The big names among them include French ex-Finance Minister Pierre Moscovici and Finnish ex-Prime Minister Jyrki Katainen.
The nine women include Italy's Federica Mogherini, the incoming EU foreign affairs chief, officially called the High Representative.
The figure of nine was reached when Belgium nominated Marianne Thyssen, a centre-right MEP, and Romania chose Corina Cretu, a centre-left MEP.
The full list was released by the Commission press service - though a few names could yet change, if MEPs are not satisfied with the choices.
The nominees include some commissioners nominated for a second five-year term: Kristalina Georgieva (Bulgaria), Johannes Hahn (Austria), Cecilia Malmstroem (Sweden), Guenther Oettinger (Germany) and Maros Sefcovic (Slovakia).
The plan is for the new Commission to take office in early November. It will replace the Commission of Jose Manuel Barroso.
Mr Juncker, a former Luxembourg prime minister and veteran centre-right politician at the heart of EU politics, got overwhelming backing from government leaders. The UK and Hungary voted against him.