Cork deaths: Post-mortems carried out on Charleville bodies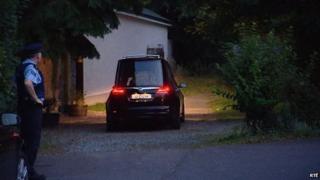 The post-mortems on the bodies of two brothers who were found dead at a house in County Cork have been completed.
Thomas and Paddy O' Driscoll, who were nine, were discovered with stab wounds at about 17:00 BST on Thursday at their home in Deerpark, Charleville.
They were pronounced dead at the scene.
A post-mortem examination carried out on the body of their older brother, Jonathan, has also been completed. His body was found 15kms away in Buttevant.
The deputy state pathologist, Dr Michael Curtis visited the family home on Friday.
The twins' bodies were taken to Cork University Hospital.
Irish police have said they are not seeking anybody in relation to the death of 22-year-old Jonathan O'Driscoll.
Local priest Tom Naughton said the deaths had left the whole community devastated.
"It's going to be immensely difficult, as something like this is, particularly the death of a child, is something that no normal human being is able to register," he said.
"But at the end of the day though, true friendship, true support, true family and true faith - the family will get through and indeed the community as well, while being traumatised too."
Investigations are continuing.