Rogue trader Jerome Kerviel 'to leave French jail'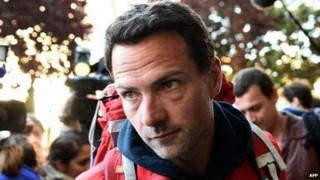 French rogue trader Jerome Kerviel is to be allowed out of jail to serve the rest of his prison sentence wearing an electronic tag, his lawyer says.
Kerviel, 37, was convicted of forgery and breach of trust after his trades lost his bank, Societe Generale, 4.9bn euros (£3.9bn; $6.3bn) in 2008.
He was given a three-year jail term in 2010 and his conviction was eventually upheld in March this year.
He spent two months walking from Rome to France before going to jail.
The public prosecutor ordered him to remain in jail last month after a judge ruled Kerviel could be freed if he remained under supervision with an electronic tag on his ankle.
Kerviel's lawyer David Koubbi said on Thursday that he would leave Fleury-Merogis prison south of Paris on 8 September, after the Paris appeals court confirmed the judge's decision.
"Jerome Kerviel can be admitted to the process of adjustment to his sentence. He'll leave Fleury Merogis this Monday and he'll carry on with a completely normal life," Mr Koubbi said.
Under the terms of the electronic tagging order, Kerviel will have to remain at home on weekday nights.
He has so far spent a total of about five months in custody.
He was initially jailed after his arrest in March 2008 after his 50bn-euro gambling spree on the markets had emerged.
Although he had originally generated more than 1.4bn euros in profits in 2007, within months that had turned into enormous losses.
He argued that Societe Generale had known what he was doing but turned a blind eye.